Wednesday, July 21, 2004
Keep on rocking in the Free World
Alex Higgins, London, September 3rd '04 respond_Alexblog@yahoo.co.uk
New posts are written every month or so. A new one is due soon. Tragedies follow each other so quickly in an unjust world it is almost impossible to keep up -
Burundi
,
Iraq
,
Darfur
,
Russia
... There are no words sufficient to condemn the
episode of child kidnap and murder
that has just taken place in
Beslan
. The pictures tell their own story. For what it is worth, almost nothing, I extend my condolences to the bereaved.
These murders were not committed by legitimate representatives of the Chechen people, who have lost
30,000 children
from
ten years of Russian aggression
against this long-suffering nation and who should not suffer further loss because of the murderous actions of Islamist chauvinists.
"In a world of executioners and victims, it is the job of thinking people not to side with the executioners."

Albert Camus

_____________________________________________________________________________________

Welcome to any readers, old and new, to those who have come here to read new items infused with radical internationalist political commentary and to those who meant to come to another site but ended up here by accident, to those who were hoping it might be a porn site with an unusual name. You are all welcome here. This is a modest blog but with an ambitious target of encouraging people to put all the wrongs in the world, right. So please, stay awhile...


There is a lot of stuff in this long, long-delayed post which you may pick and choose from at your leisure and pleasure or otherwise.
Shooting the messengers - ex-Soviet plutocracts are stopping the presses and shooting, stabbing and decapitating journalists, while new evidence means criminal proceedings against the President of the Ukraine
Liverpool sticks it where the Sun don't shine - why Liverpudlians are still refusing to sell Rupert Murdoch's rag after fifteen years
You bought yourself a second chance - Panda numbers are up, but conservationists are alarmed as rogue states bribe their way to be allowed to bomb whales
Join the US Marines - an alternative recruitment advert for the US Marine Corps, accompanying them on patrol in central Iraq
Making America dream again - how the Reagan administration taught to us to dream anew from Los Angeles to Angola
Who are the Montagnards? Who indeed?
Important partners and encouraging progress - finding a way out of dictatorship for Uzbekistan and Pakistan
Plus cartoons, links to interesting articles and News in Brief
For more of Scott Adams' cartoons, visit the official Dilbert website
For more coverage of news from East Asia, please visit Nick Allott's blog.
For some Darfur and random coverage, visit Clare-Marie White's blog. To respond or comment, send messages of sweet affection or hate mail go to: Respond_Alexblog@yahoo.co.uk
Very best wishes,
Alex Higgins (Tottenham, London, England)
Cartoon at top by Stephanie McMillan http://www.zmag.org/cartoons/toons//1766.jpg

__________________________________________________________________
STOP THIS WAR - US AND THE REST OUT THE GULF



Jeff Danziger, Los Angeles Times Syndicate (from July last year)

It's terrible that working-class teenagers join the Army to get college funds, or job training, or work--what kind of nation is this where Jessica Lynch had to invade Iraq in order to fulfill her modest dream of becoming an elementary school teacher and Shoshanna Johnson had to be a cook on the battlefield to qualify for a culinary job back home?
Katha Pollitt, The Nation May 20th 2004




I hate it when they say, 'He gave his life for his country.' We steal the lives of these kids. We take it away from them. They don't die for the honor and glory of their country. We kill them.
– Rear Admiral Gene R. LaRocque



Kirk Anderson

After each war there is a little less democracy to save.
Brooks Atkinson


____________________________________________________________________
STOP THIS WAR 2 - ETHNIC CLEANSING IN THE SUDAN
"Five to six men would rape us, one after the other, for hours during six days, every night. My husband could not forgive me after this, he disowned me."
Sudanese refugee woman interviewed by Amnesty International.
Mass graves in Darfur
"I was at home when the military came along with the Janjawid on horse back and on camels. They surrounded the village, set fire to a number of houses and shot at people, my brother was killed in front of me."
A refugee interviewed by AI delegates, May 2004
New documents reveal Sudanese government's complicity in ethnic cleansing (HRW)

"A famine made in Khartoum" Julie Flint
What YOU can do about Darfur - Human Rights Watch
Act now to end human rights crisis in Darfur - Amnesty International
____________________________________________________________________
____________________________________________________________________
Did someone say Chechnya? Certainly not the British government, as one of Tony Blair's aides said:
"We deliberately moderated our language on Chechnya, and we advised others
[Clinton, Bush, Chirac, Schroeder]
to do the same"
as John Kampfner records in 'Blair's Wars' (p101).
Human Rights Watch
did though, quoting Pushkin to describe the international community's position on the tortured would-be republic, invaded by the Russian army for the second time in a decade in 1999,
"It is so easy to deceive me, for I am glad to be deceived."
Grozny, Chechnya's capital, after Putin's inner-city regeneration programme
Click here for article:
RUSSIA USES DEATH SQUADS AND TORTURE IN CHECHNYA
Chechen Rebel Leader Warns War may Spread in Russia, Reuters (July 18th)
Putin's Russia is often described now as a "managed democracy" (i.e. not a democracy). The difficulties caused Putin by an independent media are gradually being overcome as the state monopoly engulfs television studios and printing presses - but not fast enough for some who have taken to employing killers-for-hire to snuff out the odd bits of journalism still going on.

On July 17th, at 7 o'clock in the morning, the body of a magazine editor was found on a ring road outside Moscow. Paul Peloyan, editor of Armyanski Pereulok (Armenian Lane), was found with bruises on his face and stab wounds in his chest.

Internationally, 2004 is turning out to be a grim year for journalists, partly because of the numbers being attacked and killed in Iraq – the International Federation of Journalists is talking about this year "one of the worst on record". But in Russia the situation is particularly acute. Peloyan's death came within a week of the murder of US citizen Paul Klebnikov, the editor of Forbes magazine, who was shot four times in the street at 10 o'clock in the evening on Friday 9th July. The bullets found in him were of different calibre, suggesting more than one assassin.


Paul Klebnikov 1963-2004, Forbes Magazine
Forbes is a journal that writes about the very rich, and Klebnikov had published a list of the wealthiest people in Russia with some description of how they got their money. He had written articles about Russia's deranged ruling class before, including one on exiled plutocrat Boris Berezovsky. Before he died Klebnikov said he did not know who would have tried to kill him. Berezovsky himself said:

"Klebnikov had little understanding of realities. In the west, the rich are happy to have their names mentioned publicly. In Russia, where we have seen the biggest redistribution of property in history with no laws, it is a very sensitive topic" (emphasis added)

Sine we don't know which article got him killed, I have reproduced several of them here as my little act of mini-defiance. Read them – there's some interesting stuff in there and you can defy some killer somehwere:
Coke's Sinful World
(December 2003) - Coca-Cola's relationship with dictatorships
How far will Putin go? (November 2003) - Speculation on who Putin will have arrested next

I Want my Oilfield (October 2003) - Russian oil giants and Saddam Hussein

Millionaire Mullahs (July 2003) - The rulers of Iran become very rich and how

Russian business as usual (April 2003) - Insider trading in Russian oil companies

BBC News Online: Russia's Most Hated Tycoons

But Forbes is a major US business journal – the Russian authorities will come under some pressure to find those responsible, something less likely to happen for many of the other 14 journalists who have been murdered in Russia since Vladimir Putin came to power.
Under the old regime, uppity journalists were arrested and sent to psychiatric wards. Under the new regime, such as it is, killing journalists is taken at the initiative of powerful individuals, a private affair contracted out to killers for hire. Media censorship has been privatised. Possibly Klebnikov's killers will be caught, but it is likely that journalists throughout the country will understand the message in his murder and will censor themselves more than they are already.

As the unsurpassable Sian Glaessner points out:



Where there is no direct censorship, self censorship is rife - look at the Russian coverage of the ongoing war in Chechnya (what coverage? there is none - and the official line is that there is no war either).
Read Sian's article in Peace News: "Things are not as bad as they seem, they are much, much worse"
Meanwhile, in neighbouring Ukraine, a comparable drama is playing itself out except that it is the president himself who stands accused. Heorhiy Gongazde was an outspoken critic of the Ukrainian government and its president Leonid Kuchma. Consequently, he disappeared in September 2000 and
his headless corpse was found in the woods near Tarashcha
, a village not far north of the country's capital, Kiev. For Kuchma, this did not look good, particularly since he had been recorded as saying (indeed ordering) that Gogandze should be "taken care of" and suggesting that he could be "abducted by Chechens". Kuchma denies the authenticity of the tapes, but independent investigators think otherwise.
Heorhiy Gongadze
Huge protests demanding the president's resignation took place in the Ukraine during the summer of 2001, but Kuchma remains in power to this day.
However, the matter has not gone away. This week, a committee set up to investigate the murder has recommended criminal proceedings against Kuchma:
"The committee has established the fact that the key organiser of illegal activities in the Gongadze case was the President of Ukraine"
Leonid Kuchma demonstrating how to remove heads.
Do not let him "take care of" you.
Also documents have been leaked to the London Independent which, according to their reporter, "prove senior government officials have tried to wreck investigations into the murder … and that the cover up involved the killing of a key witness while in custody".
So that's two murders and the required smoking guns. Ihor Honcharov, a former employee of the Ministry of the Interior (MVS) accused of involvement in organised crime, died in prison in August 2003. His death was pronounced to be the result of illness and his body was quickly cremated. But the autopsy showed that he had probably died after being purposefully injected with Thiopental, for which there would have been no medical purpose.
The Independent now has copies of his interrogation – in which he alleges that Gongadze was abducted and murdered by gangsters led by a man called Kisil who was working on behalf of the MVS, in turn working on behalf of the President. In the transcripts, Honcharov repeatedly expresses the fear that he will soon be murdered and that his death will be passed off as suicide or illness. And he seems to have been right on that score.
The MVS documents show that Gongadze was under their surveillance in the weeks prior to his murder, that a certain General Oleksiy Pukach ordered his subordinates to lie about this, and also to cease surveillance on the day he was to be killed. One MVS agent, Hryhiory Serhienko has also stated that a colleague, Oleksander Muzyka had infiltrated the Kisil crime family and that his team either watched Kisil's men kill Gongadze or even handed him over to them directly. General Pukach was arrested in October 2003 at the orders of prosecutor-general Svyyatoslav Piskun – but Piskun was promptly sacked, and Pukach released within a month.
Does anyone remember why we allow ourselves to be ruled by these kinds of people?
_________________________________________________________________________________________________
Stick it where the Sun don't shine

Euro 2004 has ended with a hilarious victory for Greece – despite the fact that no Greek team has ever even won a game in any previous European tournament. They entered the contest with odds of a victory ranging between 80:1 and 150:1, but ended up beating teams of players who have earned several thousand pounds by the time they step on the turf. In this part of London, the Greek community were out in force and blocked up several roads in a night of stunned ecstasy.
So there was embarrassment for England - knocked out of a major tournament yet again in a penalty shoot-out, this time by Portugal - (Portugal's goal-keeper scored a penalty, England's captain kicked the ball into the crowd). But English football fans could at least enjoy a lot of goals, a few victories against Switzerland and Croatia and a formidable performance from Everton player Wayne Rooney who, at 18 years briefly set a record for youngest goal-scorer in a European tournament game.

Injured in England's final game, Wayne Rooney's obvious talent earned him enormous popularity, particularly back in his home town of Liverpool. Unlike the grossly overpaid and carefully stylised David Beckham who has practically transformed from a human being into a corporate brand name - and whose performance was not so impressive - Rooney is more down to earth – an ordinary, unshaven and disarmingly modest bloke who looks like he has jumped off the terraces and joined the game.
Shortly after the team returned from Portugal, Rooney was signed up to an exclusive interview with the Sun newspaper where he discussed innocuous things like how he got into football and how much he likes his girlfriend for a quarter of a million pounds.

Which would have been of little interest except that the decision to do an interview with the Sun, seriously upset many of Rooney's fans back in Liverpool. Liverpool has been boycotting this tabloid for the past 15 years and the city is a virtual no-go area for Britain's best-selling newspaper. And they have good reason.
Liverpool remains traumatised by the catastrophe at Hillsborough football ground on April 15th, 1989, where Liverpool FC was due to play Notts County in an FA Cup semi-final. The Football Association wanted to keep numbers down and so they limited the number of tickets and directed Liverpool supporters through to the smaller end of the ground at Leppings Lane.
By 2:30 am, the size of the ground was swelling dangerously and more coaches were still arriving. The police were anxious about a potential crowd control problem and so decided to get as many people inside the terraces as quickly as they could. With that, they opened the notorious Gate C and began to funnel fans into the stadium. Fans walked into the gate unaware that they were walking into a bottleneck and that the terraces were becoming overcrowded as the police carried on directing them through Gate C.
Soon the terraces became packed and people were being crushed and suffocated with more still being directed inside. On the terraces, people began to fight for their lives, desperately pushing at the fences and trying to get on to the pitch. Chief Superintendent Derek Dunkenfield responded to this as if a pitch invasion was in progress and called for reinforcements to keep fans in the terraces including police with attack dogs. As desperate fans pushed over fences, police attempted to keep them in place. While scores of people were being asphyxiated and begging for their lives literally within an arm's length of policeman, they stood by to prevent fans spilling out on to the pitch.
This was despite the fact that Dunkenfield's control room had CCTV cameras sophisticated enough to pick up the eye colour of those dying in the pens.
As the screams got louder and it was possible to see that people's faces were turning blue, some police broke ranks and began to help fans escape on to the pitch. As they did, the game came to a halt and the pitch began to resemble a battlefield as the dead and injured covered the ground. Fans, with little or no medical back up, began stripping the advertising hoards to make impromptu stretchers and tried to revive the dead and dying.
95 people died, and a further died many years later, having never recovered from a persistive vegetative state, bringing the total to 96. A detailed history of the tragedy, told from the point of view of the victims,
can be found here
.
Outrage followed the disaster as the blame clearly fell on to the police. An official inquiry by Lord Justice Taylor could not avoid pointing out that "the main reason for the disaster was the failure of police control". We might also add, an element of police malice that put crowd control over crowd safety as their priority.
But for many right-wingers in England, this conclusion was not acceptable to their prejudices – and they began to push for the opposite conclusion swimming against the tide of the facts, that drunken football hooligans had crushed their own to death and prevented the police from saving lives.
The
Sun
, owned by Rupert Murdoch, was the champion of selling Thatcher's Britain to the working-class. Its editor, Kelvin Mackenzie, decided to print a Sun exclusive with the huge headline
THE TRUTH
, followed by sub-headlines, 'Some fans picked pockets of victims', 'Some fans urinated on brave cops', 'Some fans beat up PC giving kiss of life'. Its report told us that "drunken Liverpool fans viciously attacked rescue workers as they tried to revive victims… police officers, firemen and ambulance crew were punched, kicked an urinated upon…". This was an exclusive to the
Sun
because none of these events took place outside Mackenzie's fantasies. Many in Mackenzie's staff were stunned but didn't protest – "a collective shudder ran through the office [but] Mackenzie's dominance was so total there was nobody left in the organisation that could rein him in except Murdoch."
The Sun's editor, like many Thatcherites had reasons to hate Liverpool, where the city council was run by a radical left mavericks of Militant, to the disgust of both the Conservative and Labour parties who sought to rein them in – along with the city's social welfare budget which they hoped to make very much smaller. Mackenzie wasn't finished with Liverpool after his first page splash.
ITN contacted Joan Traynor to ask if they could film the funeral of her two sons. She declined and said she wanted the whole affair kept private. The Sun however, chose to invade the funeral, with its photographers shooting from the walls and putting the pictures of the two coffins on their front page, an act which "so deeply upset her that, eight years later, she has difficulty speaking about it. 'Is that what a newspaper is meant to do?' she asked" (as recorded by John Pilger).

In the midst of the disaster, the people of Liverpool found that official sympathy was in very short supply. There were 42 ambulances within 300 yards of the stadium, but there were slow in coming – one specialist vehicle was not driven into the stadium on the grounds that the vehicle would be at risk. The gym, used by the police as their refreshment centre, became a makeshift mortuary and bodies were actually taken out of the hospital and dumped in the gym since it was "an ideal situation… to put all our eggs in one basket" as Detective Superintendent of South Yorkshire CID put it.
Shortly after identifying their dead, the bereaved were put through a police interrogation with a certain repetitive theme concerning alcohol, with the unsubtle implication - 'Your dead son was drunk, wasn't he?'
The
Sun
was not alone in trying to promote the semi-official view that the deaths were caused by drunken fans trying to force their way into the ground without tickets rather than gross mismanagement by South Yorkshire Police:
"Sheffield police officers claimed tonight that drunkenness amongst Liverpool fans was at least partly responsible for the disaster at Hillsborough…According to the Police Federation a large number of Liverpool fans arrived at the ground late after drinking heavily and police couldn't control them"
(Television news broadcast).
"One had the impression that they were beasts waiting to charge into the arena."
(Jacques Georges, President of UEFA)
"How long will it take for it publicly to be acknowledged that fans themselves share the blame?… The catastrophe was caused first and foremost by violent enthusiasm for soccer, in this case the tribal passions of Liverpool supporters. They literally killed themselves and others to be at the game."
(
Evening Standard
)
Er yes, how long will it take for someone to blame the fans like everyone else was doing at the time? How is it these people make themselves out to be the lone voice of dissent and reason as they jump on a very large and full bandwagon of people much like themselves?
"I am sick of hearing how good the crowd were...They were arriving tanked up on drink and the situation faced by the officers trying to control them was quite simply terrifying."
(
Daily Mail
, quoting Paul Middup of the Police Federation)
"FANS IN DRUNKEN ATTACKS ON POLICE: Ticketless thugs staged crush to gain entry… attacked an ambulanceman, threatened firemen and punched and urinated on policemen as they gave the kiss of life to stricken victims."
(
Sheffield Star
)
"So it was at Hillsborough that the yobs made enough nuisance of themselves to convince the police that so-called gates of Hell were opened… the gatecrashers wreaked their fatal havoc. At best it was unfettered zeal. At worst it was uncontrolled fanaticism and mass hysteria which literally squeezed the life out of men, women and children. This was yobbism at its most base. People without tickets who had no right to be there were crushing to death their fellow Scousers."
(John Williams,
Liverpool Daily Post
)
As relatives waited in the hospital for news of their relatives, staff saw copies of the
Sun
and kept it away from them. But they were unable to stop the victim-blaming rampage of the police, press and the institutions of official football getting across their version of events – that the Scousers had it coming.
Fifteen years later, the
Sun
doesn't sell in Liverpool. The paper printed an insincere apology after the Wayne Rooney episode acknowledging that the Hillsborough episode as the paper's worst ever mistake but insisting that the editorial team from 1989 was gone (and hinting that Liverpudlians were being sort of unreasonable).
But this episode was not an isolated incident, the Sun is often the medium of choice for those seeking to smear and lie about other people. When the Labour MP Chris Mullin started campaigning for the release of the Birmingham Six, falsely convicted of an IRA bombing on the basis of confessions produced through straightforward torture, the Sun announced: LOONY MP BACKS BOMB GANG. When the Birmingham Six were released in 1991 after 16 years of imprisonment, Mullin proudly held up that copy of the Sun.
When Roger Bolton at Thames TV investigated the public execution of three IRA bombers by the SAS in Gibraltar in 1988, his team found a key witness in Carmen Proetta who saw the IRA team, minus guns, raising their hands and surrendering as the SAS death squad sprayed them with bullets in what the coroner later called "a frenzied attack" ("I do not like to use unscientific terms but it was like a frenzied attack I would say" – nice English understatement). This was not exactly the official version of events, so the Sun helped the government out by calling Mrs. Proetta a whore ("The Tart of Gib"), an accusation they only withdrew when she sued them for libel (she won and was awarded £300,000). Footnote - Thatcher responded by passing legislation to bankrupt Thames TV – she succeeded.
During the Australian bicentenary in 1988, the Sun printed a story on Aborigines – "THE ABOS: BRUTAL AND TREACHEROUS". Oh, did I mention that they were racists, too?

The Sun is always on standby to slur brave and undefended people, hurling the required lies in their direction until they have to retreat, usually in the face of a lawsuit. In Liverpool, people are still not buying it - their star shines on, and the Sun don't shine.
_________________________________________________________________________________________________
While on the subject of the SAS killing spree in Girbraltar in 1988, here is the Private Eye cover from the time:
_________________________________________________________________________________________________
You bought yourself a second chance
A new census has reported that there are currently 1,600 giant pandas living in the bamboo forests of Southern China which represents "an increase of more than 40% on estimates from the past 30 years." (
Independent
June 11th)
This may not however, mean that the numbers have increased, rather that we have got much better at finding them – "We have been further, higher and deeper into panda habitat than ever before, finding panda populations that were not known to science", says Stuart Chapman of the World Wildlife Fund (the WWF has a panda for its logo).
Pandas are very rare, but it seems, as Mr. Chapman says, that human beings have a second chance to keep them alive "and you don't often get a second chance in conservation." One of the main threats to pandas comes from accidental poaching – getting caught in the traps set for black bears.
Pandas have digestive systems ill-suited for their largely vegetarian diet and so must eat a very large amount of bamboo each day – about 40 kilograms – for sufficient nutrition. They also send signals to potential mates by climbing up trees and leaving their scent on them (that's their version of sticking classified adverts in the back of a magazine). For these reasons and more they depend on their forests not being destroyed, and in turn, the willingness of the Chinese government to extend the number of conservation zones.
A panda celebrates his species' survival in the traditional manner, with 20lb of bamboo

But while the situation for pandas is looking a bit better, it's a different story for whales. Whales are once again under threat from rogue states – the states in question being Japan, Iceland and Norway who are set to defy international opinion and ram harpoons into some of the world's most intelligent creatures to make products out of their body fat.
Whales have been protected to an extent by an 18-year international moratorium on their slaughter by the International Whaling Commission – but it looks like this is about to change as the rogue states are set to get the votes they need to rev up the harpoons once more.

For once, the US, Britain and Australia are on the right side of an international issue and their representatives have kept the ban in place, but the pattern of votes is changing. Originally the IWC had 30 members, now it has 57 and new countries such as the Pacific island nation of Tuvalu and the West African semi-state of the Ivory Coast are joining. Many of these smaller, poorer nations do not engage in whaling of any kind and have no intention of doing so, but they are voting to lift the moratorium. Something smells, and it's not the dead whales.
Rather, the Japanese government has been engaged in intensive efforts to persuade poorer countries to help break the international ban on whaling. They have done this with the same method the US used to get such countries to support the Gulf War - a mixture of bribery and blackmail. Poorer countries are often at the mercy of economic aid for the G8 states, and this is the Japanese government's tool of choice to win them round on the whaling issue.
In Japan, the right to kill marine wildlife has become a nationalist issue. The pro-whaling lobby is led by Masayuki Komatsu who regards whales in roughly the same way as Margaret Thatcher regards the Irish Republican Army. Komatsu is described in the London
Independent
(July 19th) as "an ultra-nationalist and career diplomat at the Ministry of Agriculture". He once advised the captains of whaling ships that they should "blow Greenpeace boats out of the water" (as French intelligence once did).
Mr. Komatsu argues not only that there are sufficient whales to hunt them, but that there are so many they are endangering fish, and that whales are "the cockroaches of the sea". This view prevails within Japan's Liberal Democrat Party (which is almost always in power).
Japan currently kills around 500 whales each year in the Antarctic Ocean by using a legal loophole which permits the killing of whales for scientific research. Quite what research is being done by eating whales in restaurants is anyone's guess – this is probably illegal but it's what happens. The hunting looks set to extend into the North Pacific next year.
It is curious to see the argument about eating fish come up again, as it did when the Canadian government went ahead with the Spring seal slaughter. Again, aside from the fact that many species of whale do no eat fish, it is people who are eating the fish, and furthermore doing so out of choice rather than necessity. Blaming whales for eating fish is
discredited here
.
Whales are not cockroaches – they are among the most intelligent creatures on the planet. The means of hunting them – firing harpoons with explosives into a whale's body – is, to say the least,
outrageously cruel
. They literally bomb the whale. And as Sir David Attenborough points out, "the hard, scientific, dispassionate evidence [shows] there is no humane way to kill a whale at sea." In its 2002 hunt, Norway found that 1 in 5 whales failed to die instantaneously, while Japan found this to be the case for 60% of harpooned whales in 2002-3.
Don't bomb the whale!

This is not just bad news for whales, as the International Fund for the Welfare of Animals says: "This isn't just about whales. It's about fighting for the right of smaller nations to make informed choices without being bullied."
So. it looks like we have to bring those Save the Whale T-shirts out again. Sigh… but then we might not have expected to have to argue against torture either – it's a strange century. No rest for the wicked, as some say.
_________________________________________________________________________________________________
Join the US Marines
Stf. Sgt. Trevor L. Spink Jr, died July 10th 2004,

Al-Anbar province, Iraq
Staff Sergeant Trevor L. Spink Jr. was killed in a road accident in Al Anbar province while on his third tour of Iraq with the US Marine Corps on July 10th. He was serving with the 3rd battalion, 1st Marine regiment based in California. His parents, living in his hometown of Farmington in Missouri, were informed by two of his fellow Marines in the traditional manner, with a personal visit to their home. Trevor Spink's death prompted a widely circulated AP news wire, because he had appeared on recruitment advertisements for the Marines for the past four years – he was literally their poster boy. The fatal accident is under investigation.
Writing in the
Guardian
,
the reporter James Meek accompanied the 3rd battalion
, 1st Marine regiment (3/1) who have recently been transferred from their headquarters in California to central Iraq, filing this excellent report. Much of the information here is drawn from that report which is largely corroborated by Matthew McCallister, a journalist working for
Newsday
who also accompanied 3/1. You can
read his report here
.
3/1 replaced 1/5 in Al-Anbar just a few weeks ago. To the Iraqis it makes no difference, but 3/1 find themselves in the position of paying for anything their predecessors did. The day before Meek arrived, one of their road patrols came under attack, hit by what the US army calls an IED (Improvised Explosive Device). No one was killed, but the shrapnel went straight into the eyes of two Marines.
3/1 are often holed up in there barracks and generally isolated from the Iraqis outside. They are not safe in their headquarters (a school they have occupied) and are required to put on a flak jacket and helmet in order to walk over to the shower rooms.
Al-Karmah is not Saigon – there is no hanging around in bars eliciting prostitutes and buying hash. Meek describes:

"There is a common assumption that the US military, once settled for more than a few months anywhere, will feather its nest with creature comforts. This has not happened in Karmah. The marines live on bottled water and field rations and, at a time of year when shade temperatures reach into the high 40s and above, few of the rooms have air conditioning or fans. It might be some small comfort to the Iraqis, perpetually bothered by power cuts, to know that the marines at Karmah don't have enough power from their own generators to run anything beyond their essential battle operations, and rely for comfort, like the locals, on the Iraqi grid. The marines do punishing three-day spells of patrols, punctuated by a few hours sleep, then get trucked back to battalion headquarters for two days' rest. There is no drink, no drugs, and no fraternising with the people of Karmah. The marines have even been banned from decorating their helmets."

Meek tried to strike a conversation with Private Chris Reed, a 20 year old from Craigmont, Idaho: Was it his first time on a convoy?
"No, I've been on lots."

Been shot at?

"No, not yet."

Worried?

"No, not much."

Chris Reed was killed on July 10th, in the same accident as Trevor Spink and two other Marines.

Meek went out on a road patrol and recorded what he heard:
In my Humvee a young machine-gunner from south Texas, Lance Corporal Gregory Farias, and a sergeant not much older, Jeremy Dunagan, started talking about vacations and food. "We should just get a cow, man, and have a fuckin' barbecue," said Farias. "I could even eat a goat ... You know, my girlfriend, she can just take an onion and bite it like an apple."
"This would be a perfect spot for them to ambush us, man," said Dunagan. "RPGs. And talking about onions, there's one right there on the ground."
A minivan was parked 100 metres away among a group of houses. A man stood with children around him.
"If he slips an RPG out of the door, you'd better light him up," said Dunagan. "Light up" is marine slang for "shoot".

"I'm on it," said Farias, taking the safety catch off his machine gun.
"If they don't wave at you I think that's a sign they don't want us here," said Dunagan.
"Once, you remember, we were doing a convoy and there was some kid throwing rocks?" said Farias.

"My back is killing me, man."
"If my girlfriend's still with me when I get back I'm going to take her on a cruise to the Virgin Islands."

There was a terrifying yell from Sergeant Piano in the passenger seat. "Holy shit, it's a fuckin' sauna in here!"

"You fuckin' scared me, man," said Farias.
We passed a kid who made the thumbs down sign at us. Farias gave the thumbs up and a boy on the back of a passing pickup shouted proudly, in English: "No!"
"Oh my God, I'm gonna go insane!" yelled Piano.
The following morning Meek declined to go on a road patrol which was just as well. Lieutenant Strabbing led his platoon to look for IEDs and fill in the holes created by the previous day's explosions. Back at headquarters, two rockets exploded 500m from the school, while a patrol sent out to find those responsible ran into an IED, though no one was hurt.
As Strabbing drew up to the craters, his second Humvee was hit by an IED. The damage was so great, it was a wonder that its occupants were not killed. The driver, 18 year-old David Negron was slightly hurt but managed to manoeuvre the vehicle even as some of its engine parts rained down some distance away. Another Marine ran up to the vehicle and found Private Joshua Stedman lying down laughing with a piece of metal sticking out of his jaw.
Sergeant Denton called for a medic – shrapnel had found a gap in the Humvee's armour and his body armour and cut deep into his head. Engineer Corporal Webb was hit by a fragment of metal which cut a hole through skin and muscle on his head, pushing bone fragments 2.5 cm into his brain, before burying itself in his neck, 4 cm deep.
Doctors were concerned that Private Stedman would lose his eye, but they managed to restore it and his sight. In the end they decided to leave Corporal Webb's bit of metal in his neck. The Pentagon does not report injuries, only the deaths of its soldiers, so this episode went unremarked except in the
Guardian
and in
Newsday
.
The company were angry now, determined on revenge on their unseen enemy. In the previous weeks they had been shot at but had not yet got the chance to shoot anyone else. They interrogated some Iraqis working at a car repair and felt they might be involved but they had no evidence. Meek notes:
"Captain Clark, the company commander, had the difficult task of assuring them righteous vengeance would be theirs, while reminding them that they couldn't just go around shooting people."

Captain Clark decided to send out a foot patrol, mainly to give the men something to do rather than brood over the morning's casualties. They came across an Iraqi farmer and became suspicious of him because of an ammunition box he had. The farmer in turn insisted he was a member of the police and had an ID card to prove it. The Marines searched his house and made a bit of a mess, then confiscated some weapons and went on their way.
"The hours between 11 and four are the hottest of the day, and July is the hottest month in Iraq, which is one of the hottest countries in the world. I don't know what the shade temperature was - somewhere in the mid to high 40s - but we weren't in the shade. The heat and the light enveloped the platoon, bleaching the senses, tunneling vision. The tops of helmets became too hot to touch. Temples began to throb as if with a hangover. The heat and the fear silenced everyone after a minute and as the platoon walked forward, strung out on either side of a dirt track… The marines were each carrying - in weapons, water, ammunition and gear - well in excess of a standard airline baggage allowance. Sweat trickled into the eyes and its saltiness stung. As fast as you sucked on the hose from the water pouch on your back, your body sweated the water back out.
"

The men returned, now loathing the heat more than the rebels. On the walls around the school, they had found graffiti with messages like "We beat the Americans in Fallujah and we will do it again" and "Kill the Americans". These were now painted over. What did the people in Karmah think of the US troops?
Captain John Green said: "It seems to change every day, whether they like you or don't like you. They'll point to the soles of their feet. Make the evil eye sign. You'll raid their house, and they'll say: 'Why don't you stay for tea?'"
3/1 has had the job of giving out financial compensation to those bereaved by 1/5. The current value of an Iraqi life is $500. There is an upper limit of $2,500 they may give in compensation for a civilian death. The compensation money comes from the same funds available for the Marines' necessities – food, water and so on – so the amount given in compensation has declined. Meek describes the process:

Captain Jonathan Vaughn: Coalition forces regret the loss of your brother. We understand it is a great loss to your family. We wish to offer something to you by way of sympathy and sorrow to help your family to rebuild after the loss of your brother. My commanding officer, Lieutenant Colonel Buhel, has authorised me to pay you $500 as sympathy for your loss. We understand that it is not enough money and nothing can replace the loss to your family. We wish that this small gift will help in some way. Much of the money that we had previously, the coalition forces have transferred to your government to help rebuild. We wish the best for you and your family and your country as you do rebuild. Thank you very much."

(Claimant shakes Vaughn's hand and leaves. Vaughn is armed. As it happens, it is 29th birthday today.)
Vaughn: (to claimant): Hassan?

Hassan: Salam aleikum.

Vaughn: It's a beautiful son you have. I'm glad he could make it today. How is your other son doing? (Hassan shows Vaughn a scar on the little boy's head.) Oh, this is the son who was injured? He's a very strong son. A very strong boy. We are sorry that your son was injured in these conflicts. It is the children of this war that suffer the most. I wish there was much more that our country could do for you.
Hassan: It is in God's hands.

Vaughn: My commanding officer has authorised me to pay you $250 for your son's injuries that he suffered. However, I'm going to offer an additional $100 for his future surgery to make sure he grows up healthy and strong.
Hassan: My house was badly damaged.

Vaughn: I understand that there was much damage through all this conflict. However, right now all I'm authorised to pay is to try to help your son recover from his injuries. We regret that we cannot do more for you. I offer this $350 to try to help your son. He is a strong boy and we look forward to him growing up in a free Iraq. Is that the last one? OK.
Meek talks to 19 year-old Private Farias. Farias is a gung-ho supporter of the Bush administration and the war. A little melancholy, he says at the day's end:

"I don't want to get killed here… I don't want to die here. You know. This is the last place I'd probably ever want to die. You know, it's just - I want to go home. I want to go home, I want to see my family, I want to do everything I did, do everything I did, you know, when I wasn't here. I'm not necessarily scared to die. I'm scared to not do the things that I want to do." Maybe that's what being scared of dying is? "I guess."
Figures may be out of date - it is hard to keep up
Since war began, (March 2003)
Total -
971
(729 in combat)
Since major combat operations
declared over (May 2003)
Total -
832 (618 in combat)
Since capture of Saddam Hussein
(December 2003)
Total -
511
(424 in combat)
Since handover to Iraqi administration
(June 2004)
Total - 114 (97 in combat)
On average, the Coalition loses 15 soldiers a week in Iraq
____________________________________________________________________
Making America dream again
Funerals are always unhappy occasions, though in the case of official funerals of the powerful they are often an occasion for ugliness, surreality, a touch of hysteria and a great deal of dishonesty. Case in point:

When he became President, he took on challenges here at home on matters from cancer research to environmental protection, putting the power of the federal government where Republicans and Democrats had neglected to put it in the past; in foreign policy. He came to the presidency at a time in our history when Americans were tempted to say we had had enough of the world. Instead, he knew we had to reach out to old friends and old enemies alike. He would not allow America to quit the world.
…For the past year, even in the final weeks of his life, he gave me his wise counsel, especially with regard to Russia. One thing in particular left a profound impression on me. Though this man was in his ninth decade, he had an incredibly sharp and vigorous and rigorous mind.
As a public man, he always seemed to believe the greatest sin was remaining passive in the face of challenges. And he never stopped living by that creed. He gave of himself with intelligence and energy and devotion to duty. And his entire country owes him a debt of gratitude for that service…

In case it is not immediately clear, the man described in the above extract is US President Richard Nixon – the speaker was then president Bill Clinton, at Nixon's funeral in 1996. On Nixon's tombstone are inscribed the words, "The greatest honour history can bestow is the title of peacemaker."
Indeed. But only with substantial rewriting will history ever bestow such a title on Nixon.

Such funerals are awkward times to be a decent human being. Almost any death brings with it sorrow and grief and there is something unseemly about saying – "This guy was a total asshole and now he's popped it, let's celebrate". There are people who do do this, and they get pounced on and used to show the despicable nature of the deceased's critics.
On the other hand, it is vile the way that such funerals are used to provide an emotional boost to the politics of cruelty and injustice. When a murderer dies, it will not do to forget the other funerals left in his wake.

Of the many. many tributes to Ronald Reagan, one stood out as being actually moving, coming from Miguel D'Escoto, a former priest and Foreign Minister of Nicaragua in the Sandinista government:



"First of all, let me start out by saying that, of course, Reagan is now dead. And I, for one, would like to say only nice things about him. I'm not insensitive to the feelings of many U.S. people mourning President Reagan, but as I pray that God in his infinite mercy and goodness forgives him for having been the butcher of my people… we should not, ever forget the crimes he committed in the name of what he falsely labelled "freedom and democracy."



No we should not. There is no media coverage for the funerals of the poor. The New York Times produces special pull-out sections for dead presidents, not for homeless people who die in the streets outside their offices. And for many of the hundreds of thousands of rural poor people butchered in the Reagan administration's covert wars in Central America and Southern Africa, there weren't even funerals – the bodies were just thrown into the mass graves of the abattoir state.

Whether Reagan can be credited with ending the international Cold War death trap is one matter we will come to, but he certainly can be credited with nearly ending the world. In late 1983, shortly after the US invasion of Grenada and the destruction of the Korean airliner KAL 007 by the Soviet airforce after it strayed off course, Oleg Gordievsky passed some information to his British contacts he thought they might find interesting.
Gordievsky was the deputy KGB chief in London from 1982-85, and also worked as a double agent for British intelligence. He informed British intelligence that the Soviet leadership, by that stage entering its senile dementia, believed that the US government was preparing for a first strike on the Soviet Union. At first he was disbelieved.
In the USSR, the behaviour of the Reagan administration prompted the widespread view that war in 1984 was almost inevitable:

"Ordinary Russians began to fear the worst. One local party chief, in a remote agricultural region, was approached after a meeting by several women in tears, asking if war with America was now inevitable, and if their sons would have to die."

The KGB was put on a special alert that would last for years. Every action by NATO forces was monitored closely for anything suspicious.
The Reagan administration had come to power with bellicose rhetoric. Reagan talked of creating a nuclear shield that could render Soviet weaponry useless, the US made open threats to Cuba and Nicaragua and invaded the island of Grenada. The KAL 007 tragedy was used for political point-scoring, Pershing and Cruise missiles were deployed in Western Europe and when the Soviets walked out of disarmament talks in protest against the unilateral US military build-up, Reagan merely denounced Soviet duplicity. The Reagan administration didn't realise that their antics were being interpreted in Moscow as a build-up to war. A large NATO training exercise in November 1983 was interpreted by the Kremlin as possible preparation for an attack. Aircraft in bases in East Germany were put on standby.
Then Gordievsky's information was passed from London to the White House and the Reagan administration finally realised what was happening. Reagan was apparently disturbed by the Soviet interpretation of his conduct and a more conciliatory policy towards Moscow began to develop.

If you were alive then, you almost died in 1983 – whatever your politics. It is an example of how psychopathic the discussion of nuclear weapons has become that the thorough extermination of the human race, including even Reaganites, is considered a minor issue. Reagan himself declared 1983 to be 'The Year of the Bible'.
His administration's attitude towards the end of the world was also revealed in its environmental policy. Reagan's first Secretary of the Interior told a Congressional hearing in 1981, that there was little need to worry about the environment since:



""I do not know how many future generations we can count on before the Lord returns."
The funeral procession for Reagan was unlike anything since the death of JFK and the eulogies in the press, both in the US and abroad, were a cultural phenomenon. Reagan was credited with being genial, kind and witty, sincere, causing a sneaking admiration among his opponents and one who "saw his job as teaching Americans how to dream again".
In one of those famous off-the-cuff quips, he pointed out the funny side of malnutrition among the US poor: "We were told four years ago that seventeen million people went to bed hungry every night. Well, that was probably true. They were all on a diet." As Christopher Hitchens adds: "Whatsamatter, canthca take a joke?"

Among the first people to dream anew were the striking air traffic controllers. Reagan allowed 1,800 of them to be fired illegally to make it clear who was and who wasn't supposed to be doing the dreaming. Their fate set the pace for those who felt liberated to smack the unions down over the next two decades by firing those who protested at their conditions.
Hitting at working-class democracy wherever it raised its head helped with the Reagan administration's stripping of the welfare state. As Sister Helen Prejean (her story made into the movie 'Dead Man Walking') wrote:



"…I watch Reagan slash funds for parental child care, low-income housing, employment training, and food subsidies. And as social programs are slashed, new prisons are built. Between 1975 and 1991 Louisiana expanded its adult prisons from three to twelve, with prison populations increasing by 249 percent. … Between 1981 and 1991 the federal government cut its contribution to education by 25 percent (in real dollars) and increased its allocation for criminal justice by 29 percent."



With the return of mass unemployment, Depression-era poverty and homelessness, the genial Reagan took no notice, except every so often to laugh at the poor or excuse their suffering: "One problem that we've had, even in the best of times, and that is the people who are sleeping on grates, the homeless who are homeless, you might say, by choice."
The new revival of heartlessness was championed by the novelist Tom Wolfe who described the 1980s as, "one of the great golden moments that humanity has ever experienced." Alternatively, Tracy Chapman sang:

People say it doesn't exist

'Cause no one would like to admit

That there is a city underground

People who live everyday

Off the waste and decay

Off the discards of their fellow man

Here in Subcity life is hard

We can't receive any government relief

Won't you please, please give Mr. President my honest regards

For disregarding me?
…
What did I do deserve this?

Had my trust in God

Worked every day of my life

Thought I had some guarantees

That's what I thought

At least that's what I thought…

Last night I had another restless sleep

Wondering what tomorrow might bring

Last night I dreamed

A cold blue light was shining down on me

I screamed myself awake

Thought I must be dying...

Professor Noam Chomsky wrote in the early 1990s:
"The poverty rate rose further in 1991, the Census Bureau reported. A congressional report released a few days later estimates that hunger has grown by 50 percent since the mid-1980s to some 30 million people. Other studies show that one of eight children under 12 suffers from hunger, a problem that reappeared in 1982 after having been overcome by government programs from the 1960s. Two researchers report that in New York, the proportion of children raised in poverty more than doubled to 40 percent, while nationwide, 'the number of hungry children grew by 26 percent'"
('Year 501: The Conquest Continues', emphasis added)
"Governor, do you think homosexuals should be barred from public office in the United States?" asked one journalist of Reagan. "Certainly they should be barred from the department of beaches and parks," he replied.
A dramatisation of the Reagan family's life for CBS caused much outrage among Republicans for, among other things, suggesting his AIDS policy was influenced by his belief that those suffering from the disease were paying the price for a sinful lifestyle. Certainly, the line in the script, "Those that live in sin shall die in sin" was a fabrication, but the charge is not so easily avoided. Why did Reagan fail to issue a major public announcement on AIDS for six years while thousands of people died?
Like the above remark, there is anecdotal evidence concerning Reagan's mocking attitude towards gays and AIDS sufferers, though there are also anecdotal accounts of kinder feelings. The more serious issue, as
Michael Bronski writes
in ZNet, is that Reagan capitulated to the harsher wings of the Republican party for many crucial years on this issue:
"Although AIDS was first reported in the medical and popular press in 1981, it was only in October 1987 that Reagan publicly spoke about the epidemic in a major policy address. By the end of that year 59,572 AIDS cases had been reported and 27,909 of those women and men had died… Most important, AIDS research was chronically underfunded. When doctors at the Center for Disease Control and the National Institutes of Health asked for more funding for their work on AIDS, they were routinely denied it. Between June 1981 and May 1982 the CDC spent less than $1 million on AIDS and $9 million on Legionnaires' disease. At that point more than 1,000 of the 2,000 reported AIDS cases resulted in death; there were fewer than 50 deaths from Legionnaires' disease. This drastic lack of funding would continue throughout the Reagan years.
'When health and support groups in the gay community were beginning to initiate education and prevention programs, they were denied federal funding. In October 1987, Helms amended a federal appropriations bill to prohibit AIDS education efforts that "encourage or promote homosexual activity"—that is, efforts that tell gay men how to have safe sex.
'…when Surgeon General C. Everett Koop released a report calling for AIDS education in schools, Bennett [Education Secretary] and Bauer [Interior Minister] did everything possible to undercut and prevent funding for Koop's too-little, too-late initiative. Reagan again said and did nothing. By the end of 1986, 37,061 AIDS cases had been reported; 16,301 people had died."
The cruellest conduct was not on Reagan's part, but from senior figures in his administration. Reagan's Hollywood friend, Rock Hudson, died from AIDS in 1985, but Reagan did not use the occasion for a major public announcement. Reagan's friend William F. Buckley called for AIDS sufferers to have the disease tattooed on to their buttocks and arms, and he did not respond to that either, nor when George Bush Sr. and the Governor of California William Dannemeyer called for mandatory AIDS testing despite strong condemnation from the medical profession.
Reagan's responsibiliy? As he himself put it:
"Much has been said about my management style, a style that's worked successfully for me during 8 years as Governor of California and for most of my Presidency. The way I work is to identify the problem, find the right individuals to do the job, and then let them go to it. I've found this invariably brings out the best in people. They seem to rise to their full capability, and in the long run you get more done."

You can see the origins of Reaganite AIDS policy in that statement.
On another health issue:
"… last week Ronald Reagan's own Environmental Protection Agency announced that one in five Americans is ingesting more lead through the drinking water than any safety standard would admit. The report, which incidentally admitted that the safety standard was too lenient anyway, said that excess lead was responsible for the measurable decline in intelligence of 143,500 children each year, for pregnancy complications among 622,000 women, and for 118,400 cases of hypertension.
'… there is something emblematic about the story. For one thing, it was not the Environmental Protection Agency that released the report. It was Ralph Nader who forced them to disgorge it. … Meanwhile, the EPA staff was cut to the bone, and two of its senior directors faced charges of collusion with polluting companies. One of them is now in jail."
(Christopher Hitchens)
Of course, some people did get to dream again in Reagan's USA. In 1983, while Reagan announced the launch of the Strategic Defense Initiative, a friend of journalist Alexander Cockburn watched from the Fort Myer Officer's Club in Virginia. There a naval officer and a defence contractor listened to the speech getting more and more excited: "He's going to do it… he's doing it… he's done it! We're rich, we're rich!"
SDI, more often known as Star Wars, due to its fictional characteristics, was officially terminated in 1993, by which time $30 billion had gone to exultant military-industrial types. Despite this huge expenditure almost no new technology had been developed – the scientific aspects of the venture were kept secret from much of the scientific community, who might otherwise have pointed out the impossibility of the proposed laser weapons. There were never any successful tests for SDI technology, but Reagan's love for the project was crucial in the failure of the remarkable Reykjavik talks with Gorbachev in which Moscow and Washington came very, very close to an agreement to eliminate all offensive nuclear weapons – except that Reagan would not abandon Star Wars.
And continuing on the theme of dreaming, it was a couple of years ago that the Nicaraguan poet, Gioconda Beli, said in an interview,
"We had a lot of imagination then
[after the revolution in 1979].
We lived not according to what we were but what we could become. There is no crazy dreaming any more."
A couple of weeks ago, BBC Online ran a story complementing a radio documentary, 'Nicaragua's broken dreams'. Or as the right-wing US columnist Irving Kristol preferred to see it: "Insignificant nations, like insignificant people, can quickly experience delusions of significance", which the significant have the right to bring to an end.
In 1979, the people of Nicaragua overthrew the tyrannical crime family of Anastasio Somoza who fled the country after trashing the countryside and having the slums of Managua dive-bombed in his last desperate effort to hang on to power. The Somoza regime was installed by US Marines in the 1920s. Franklin Roosevelt famously described the first Somoza as "a son of a bitch, but at least he's our son of a bitch."
The new government was the subject of a famous report by the development agency, Oxfam:
"Oxfam's goal worldwide is to support poor people in their efforts to improve their situation. This long-term development work is most likely to succeed where governments are genuinely committed to the needs of the poor majority. Rarely is this the case. … From Oxfam's experience of working in seventy-six developing countries, Nicaragua was to prove exceptional in the strength of that Government commitment."


Since the US had failed, despite a strenuous effort, to keep Somoza in power,
the Reagan administration developed the Carter policy
of using what was left of Somoza's National Guard to form a new paramilitary force to attack Nicaragua from the outside, the Counter Revolutionaries or more usually, the Contras.
The kind of crazy dreaming in which the Nicaraguan poor could indulge were the expectations of receiving a plot of land, learning to read, having their children vaccinated and the like. It was at this effort that the Contras were directed, as one admitted:
"We attack a lot of schools, health centers, and those sort of things. We have tried to make it so that the Nicaraguan government cannot provide social services for the peasants, cannot develop its project … that's the idea"
The Oxfam report, reported their methods:
"Olivia de la Vides Mesa, a 24-year-old mother, reconstructs what happened at Castillo Norte [on May 15th, 1984]: 'The Contras attacked us at 11 am. I was in the kitchen. They began with mortars. There were about 600 of them. We had only 20 militia. One of the mortars fell and killed an old woman in the shelter. When they got nearer, my little sister begged them: "You already killed an old woman, please don't kill our children". But they tortured and slit the throats of our militia. I know, because they were so few and they had no more ammunition, they gave themselves up with their hands in the air. And when I got out, they had castrated one of the boys, and cut another's tongue out. And a militia girl who was 4 months pregnant, they raped her and cut off her breasts while she was still alive. They left them all naked. Then they burned them. About 20 campesinos were kidnapped.'"
The Contras called themselves the 'Sons of Reagan'. Around 40,000 Nicaraguans were killed by the Somoza regime in its last years, and 30,000 in the Contras' war, which lasted until 1990 when an exhausted Nicaraguan electorate voted for the US-backed candidate over the Sandinistas (in the second free election under the Sandinistas, who won the first decisively).
The Contras needed funds for their atrocity war, and while the US Congress authorised hundreds of millions of dollars at Reagan's request, they needed more. With the legal options exhausted, the Reagan administration sought illegal ones. This is a transcript from a National Security Planning Group meeting in 1984 with all our friends in attendance:
JEANNE KIRKPATRICK: If we can't get the money for the anti-Sandinistas, then we have to make the maximum effort to find the money elsewhere.
GEORGE SCHULTZ: I would like to get the money for the Contras also, but ... Jim Baker said that if we go out and try to get the money from third countries, it is an impeachable offense.
WILLIAM CASEY: Jim Baker said that if we try to get money from third countries without notifying the oversight committees it could be a problem.
SCHULTZ: Baker's argument is that the U.S. government may raise and spend funds only through an appropriation of the Congress.
PRESIDENT REAGAN: We must obtain the funds to help these freedom fighters.
VICE PRESIDENT BUSH: The only problem that might come up is if the United States were to promise to give these third parties something in return, so that some people could interpret this as some kind of an exchange.
JIM McFARLANE: I certainly hope none of this discussion will be made public in any way.
PRESIDENT REAGAN: If such a story gets out, we'll all be hanging by our thumbs in front of the White House until we find out who did it.
This led to the entangled mess of the
Iran-Contra scandal
which consisted of: a deal with the Iranian regime for the release of US hostages in the Lebanon, an effort to foment a military coup in Iran and stave off Iranian defeat at the hands of Iraq's armies through the supply of weapons to the Iranian military, and the supply of cash by Iran to purchase weapons for the Contras.
When the scandal broke in 1986
, after a CIA supply-plane was shot down in Nicaragua, Reagan stated:
"In spite of the wildly speculative and false stories of arms for hostages and alleged ransom payments, we did not -- repeat did not -- trade weapons or anything else for hostages; nor will we."


A Congressional investigation found that the administration's behaviour in this episode was "characterised by pervasive dishonesty and secrecy".
Indeed, in 1987, when
Reagan himself was called to testify before the Tower Commission
, he read from the notes prepared for him. Accidentally, he read out this line:
"If the question comes up at the Tower Board meeting, you might want to say that you were surprised."
Oopsies. Reagan was a man whom other people got to lie for them.
Finally, Reagan said:


"A few months ago I told the American people I did not trade arms for hostages. My heart and my best intentions still tell me that's true, but the facts and the evidence tell me it is not."
Sponsor a Contra
This statement has the appearance of a particularly absurd lie, but it is quite possibly true, as Reagan appears to have had a genuine mental difficulty in distinguishing fact from fiction. Perhaps the most famous incident was the occasion he told Simon Wiesenthal, the pursuer of Nazi war criminals, that he had been among the US soldiers who liberated the Belsen concentration camp at the end of the Second World War. In fact, as is well known, Reagan had never left California for the entire period of the war.
Nonetheless, he repeated the story a short while later to Israeli Prime Minister, Yitzhak Shamir, and continued to insist of the truth of this story years later.

The Iran-Contra scandal was the product of what Congress' inquiry dubbed "a cabal of zealots". The National Security Council created a sort of parallel government designed to operate in secret and without Congressional (and even Executive) oversight, which they named the Enterprise, in true mafia style. Such an organisation was always likely to become corrupt and morally delinquent. Power corrupts, and absolute power is kinda neat, as the saying goes.
Celerino Castillo, working for the Drugs Enforcement Agency, became aware that US agents under the supervision of Colonel Oliver North, were involved in narco-trafficking operations in Central America and decided to write reports on the matter. He got a response:

"I was informed my career would end because I was stepping on a White House operation … I wrote dozens of reports but they disappeared into a black hole at DEA headquarters."

Castillo was withdrawn from Central America and he subsequently resigned in protest. The White House operation in question was the policy of allowing Nicaraguan CIA agents to smuggle narcotics from Latin America through to the United States and use the proceeds from the sales to fund the Contras.
Millions of dollars were made through the sale of crack cocaine, a new, cheap and ultra-addictive form of cocaine for poor people that was sold mainly to black drugs rings in California. Crack cocaine went on to devastate poor, black communities in Los Angeles and throughout the USA. Hitchens referred to this as "the corrupting of America to finance the ruin and torture of Nicaragua." A State Department official told the Washington Post in 1994, "The whole thing is too sleazy for words. It's not a happy chapter in US history".
No indeed, but you'd hardly know it from much what has been written about the Reagan administration in the last couple of months. Bush senior gave presidential pardons to all those indicted following the Iran-Contra scandal. The Nicaraguan CIA agents and smugglers however, were jailed. (This information comes from 'Whiteout: The CIA, Drugs and the Press' by Alexander Cockburn and Jeffrey St. Clair - it is amply corroborated elsewhere)

Where does it all end? The Reagan administration channelled massive military aid to this regime in Guatemala:

"The bodies of the victims have been found piled up in ravines, dumped at roadsides or buried in mass graves. Thousands bore the scars of torture, and death had come to most by strangling with a garrotte, by being suffocated in rubber hoods or by being shot in the head."
(Amnesty International, 1981)
Unearthing the recent political history of Guatemala
The regime itself described its policy as:
"We have created a more humanitarian, less costly strategy, to be more compatible with the democratic system. We instituted civil affairs
[in 1982]
which provides development for 70 percent of the population, while we kill the other 30 percent. Before the strategy was to kill 100 percent."
(General Hector Gramajo)
Memorial to victims of massacre in El Salvador,
a leading recipient of US military assistance in the 1980s
Recent obituaries of Reagan have gone as far as to suggest that he played a substantial role in ending Apartheid in South Africa, despite his actual record of trying to sustain it. As one US official said of Reagan, "All he knows about South Africa is that he is on the side of the whites."
In his public pronouncements on the matter, the Great Communicator informed the US public that South Africa's regime had "stood beside us in every war we've ever fought" despite the fact that it had supported Hitler during World War II, and that the Botha regime "had eliminated the segregation we once had in our own country", a statement which was merely false. As South African historian, Leonard Thomson wrote:

"The Botha [Pieter Willem Botha, SA Prime Minister from 1978-89] government was fortunate in the shifts in domestic politics in London and Washington… Thatcher rejected demands by other members of the Commonwealth that Britain should join them in taking strong economic measures against apartheid. The Reagan administration, too, opposed sanctions and ignored the increasingly popular antiapartheid lobby in the United States."

The Reagan administration's second largest covert operation, after the bankrolling of the Afghan mujahideen was the UNITA paramilitaries in Angola, a one-time Maoist guerrilla army that became little more than a front for South African aggression and the personal aggrandisement of its leader, Jonas Savimbi. A senior State Department official in the Bush Sr. administration described UNITA as "exactly like the Khmer Rouge; elections and negotiations are just one more method of fighting a war; power is all."
So it is fitting that the Reagan administration should have supported the Khmer Rouge as well then, in its effort to cause as much harm to Vietnam as possible, Vietnamese armies having invaded Cambodia in response to Khmer Rouge aggression. And they supported Saddam Hussein (and the Ayatollah Khomeini too), Osama Bin Laden, Nicolai Ceacescu (Romania), Colonel Suharto (Indonesia), General Zia-al-Huq (Pakistan), Ferdinand Marcos (the Philippines), General Park (South Korea), Samuel Doe (Liberia), General Alfredo Stroessner (Paraguay), General Pinochet (Chile), Colonel Menghistu (Ethiopia), Siad Barre (Somalia), Menachem Begin and Ariel Sharon (Israel) – have we missed any out? Anti-Communists and Communists - any butcher is OK when when it comes to Great Power international power-play. In accounting the total harm done by the Reagan administration, it is hard to know where to begin.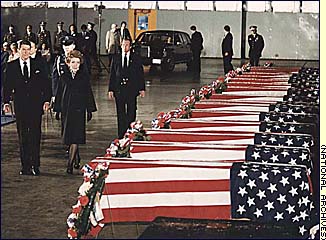 US troops return from the Lebanon after Reagan's disastrous intervention in 1983.
You can speculate exactly how many people would have had to have died before the US political class became squeamish in their orations to the late Reagan and the love that his critics apparently had for him (if so, then what profoundly good souls they were).
Despite the charm and the quips, Reagan's smile disappeared when confronted with a question he did not like the tone of, as when he was asked whether during the 1980 presidential election campaign, his staff had stolen papers from President Carter (they had).

Christopher Hitchens was there:


The famously genial grin turned into a rictus of senile fury: I was looking at a cruel and stupid lizard. His reply was that maybe his staff had, and maybe they hadn't, but what about the leak of the Pentagon Papers? Thus, a secret theft of presidential documents was equated with the public disclosure of needful information. This was a man never short of a cheap jibe or the sort of falsehood that would, however laughable, buy him some time.

The charm tended to disappear in the face of a serious question, though the White House press corps didn't often cause such trouble.
It is true that Reagan, though inspiring ridicule, fear and disgust, rarely inspired hatred. On the other hand, neither did he inspire much popularity or affection, despite the historical rewriting on this score. He wielded enormous influence over the world, but rarely showed much interest in it, and he led something of a lonely existence:

He could have had anyone in the world to dinner, any night of the week, but took most of his meals on a White House TV tray. He had no friends, only cronies. His children didn't like him all that much. He met his second wife—the one that you remember—because she needed to get off a Hollywood blacklist and he was the man to see.

In addition to an apocalyptic, chauvinist collection of religious beliefs Reagan blended a profound belief in astrology, making the astrologer Joan Quigley on of his key confidants and consulting her on almost every decision of his presidency. We are fortunate indeed that when asked about Gorbachev's personality, Quigley went along with the consensus and announced that according to the stars, Gorbachev was a man with whom it was possible to negotiate. We are not so fortunate that the stars appear to have given the OK to his Central America policy.
Did Reagan help end the Cold War? Yes he did - after 45 years his administration finally held serious and far-reaching negotiations with the Soviet Union, resisting accusations from the US right of appeasement. This had been a serious option for any president wishing to pursue it since 1945.
Ronald Reagan was a scarcely comprehending frontman for the very wealthy and the very cruel, living in a semi-detatched fantasy world and cut out of the loop of the policy making of his vile administration. His administration was a degrading period for the US, a fiesta of corruption and short-sightedness, combined with an assault on the poor at home and abroad. Whether or not he rests in peace, the rest of us can't while his legacy survives.
________________________________________________________________________________________________
Who are the Montagnards?
From April 10-11, unrest among the Montagnards, a largely Protestant Christian ethnic group centred around the highlands of Central Vietnam came to a head. Along the roads of Buon Ma Thuot, the capital of Dak Lak province, as many as 30,000 Montagnards were involved in protests against the regime.
The response came soon enough. Eyewitnesses describe how police called the protestors off a bridge and then proceeded to beat them. Police and plainclothes volunteers laid into the demonstrators with clubs, metal bars, electric truncheons, tear gas, water cannon and other such items of crowd control, all used to break legs, arms, skulls including those of children. Hundreds were injured and a number (not known) were killed. People were thrown on to trucks and taken away, their whereabouts still a mystery.
This incident provoked an international outcry of a sort – one of those sorts of outcries that hardly anyone hears about, largely thanks to the efforts of Human Rights Watch. The Vietnamese regime denies the episode.


The US Congress voted to terminate aid to Vietnam – an act that was not at all impressive since the US should be paying out very large sums indeed in reparation for what the US did to that country, and indeed the Nixon administration promised to do so at the Paris talks in 1972, but broke its pledge, not for the first or last time.

Like many Stalinist-style regimes, that of Vietnam faces a crisis, trying to ram home an ideology that in practice they have abandoned and thus discrediting it. They are attempting to introduce economic changes of the kind that enrich the ruling elites and foreign investors but impoverish and exploit the population prompting opposition, but that opposition often takes conservative forms given popular alienation from the official ideology.
The Montagnards are one of many ethnic groups that came into conflict with the new regimes after the US withdrawal in 1975, largely because the US had sought to recruit such groups as mercenary armies to fight against the revolution. The resulting bad faith between these groups and the new regimes have resulted in ongoing persecution. The Montagnards had reason to fear that the Stalinist regime would threaten both their religious freedom and ownership rights over lands they considered to have particular cultural significance. It is unfortunate that advocating the human rights of these peoples as in many officially Communist countries is usually left to Christian charities, human rights lobbyists, exiles and right-wing groups in the US who defend them for reasons of blatant bad faith (they wish that the US had butchered their way to a blood-saturated victory in Indochina and use the lousy human rights records of Vietnam and Laos as justification for the phenomenal period of massacre and torture we call the Vietnam War).

You can find out more about the Montagnards from one of these groups here.

Nonetheless, the human rights of the Montagnards and others do indeed matter and should be a cause for international concern. Currently, religious leaders are being jailed, while the central highlands are being saturated by soldiers and police of a regime that has long, long betrayed the ideals for which the Vietnamese fought against the odds from 1945-1975. Their demands are political autonomy, land guarantees and religious freedom, all of which the Vietnamese regime should grant or negotiate.
_________________________________________________________________________________________________
Link
_________________________________________________________________________________________________
Important partners and encouraging progress

And since we are on the subject of dictatorship in Asia, another Human Rights watch report is worthy of attention. First, in the US, the State Department has just suspended some aid ($18 million) to Uzbekistan pending improvements in Islam Karimov's ghastly regime's human rights record, following a warning issued in December.
This is good news, but the celebrations should not slip into apologetics. The Uzbek embassy in Washington responded with the statement that their regime remains: "united with the United States in the war against terrorism, and we will continue our strategic partnership" and the State Department agrees:



Uzbekistan is an important partner of the United States in the war on terror and we have many shared strategic goals. This decision does not mean that either our interests in the region or our desire for continued cooperation with Uzbekistan has changed.




No indeed, the issue is that the single-party authoritarian regime of Islam Karimov limits the possibilities for US political and economic penetration in the long term and they would prefer a more open system less dominated by one man, but still authoritarian:
Uzbekistan has made some encouraging progress over the past year with respect to human rights. We are, however, disappointed by lack of progress on democratic reform and restrictions put on U.S. assistance partners on the ground. On balance, therefore, the Secretary has decided that, based on Uzbekistan 's overall record of reform, he cannot make the determination required by Section 568(a).
(Emphasis added)
If the US State Department was serious about human rights in Uzbekistan, they would not be coming with statements like about "encouraging progress over the past year with respect to human rights". There is no such progress – that's why the US Commission for Security and Co-Operation in Europe held a hearing last month with the title
"Uzbekistan: Stifled Democracy, Human Rights in Decline
". (emphasis added)


The State Department's cautious optimism is not shared by human rights agencies:


As the International Crisis Group describes:

There is also no evidence of overall human rights improvement. Reports suggest that torture is still widespread in places of detention, despite the government's rhetorical commitment to act against it. None of the UN Special Rapporteur on Torture's 22 recommendations has been fully implemented. A government action plan against torture has had little impact on the reality of the criminal justice system. Human rights defenders and ordinary people who speak out against local or central authorities face harassment or arrest from law enforcement agencies.

In its morality and idealism-free plan to defeat al-Qa'ida (and any other form of serious opposition), torture and authoritarianism are still the core programme for Washington.
Presidents George W. Bush and Islam Karimov, friends for life, Man
In Pakistan, we see this again. Debate about the future of Pakistan in the West consists almost entirely of how to keep General Musharaff's secular, pro-Western military regime stable (and how to keep Musharaff himself alive after a string of assassination attempts), lest this nuclear power become run by a Taliban-like regime hostile to the West.
This view is mistaken I think, as well as morally bankrupt. The pressure to Talibanise Pakistan does not come from the majority of Pakistanis – it comes from the ugliest, nastiest elements of Pakistan's military and intelligence establishment. These elements are not undermined by a general strengthening of that same establishment for as long as it is run by a favoured ally. A more sane strategy would be to push for democratic openings, a dismantling of the Pakistan's nuclear arsenal (which means India's and Israel's have to go too) and the overhaul of the army and the ISI by a government with some popular base.
Still, sanity and morality never had anything to do with it.
Which leads us back to the
HRW report exposing the reality of military dominance in Pakistan
for farmers in the Punjab:


In the Pakistani military's traditional stronghold of Punjab, paramilitary forces working with the army are killing and torturing farmers who refuse to sign contracts that would cede their land rights to the army… To coerce farmers to comply, paramilitary forces are torturing children and forcing couples to divorce.

The dispute is over land in the Okara district which the army insist belongs to it, while residents and "most legal experts" (HRW) think otherwise.



The armed unit responsible for most of the abuses against the farmers is the Pakistan Rangers, a paramilitary force normally used for border security. To coerce the farmers into signing new tenancy agreements, the Rangers set up "torture cells," a term commonly used in Pakistan by officials and citizens alike to describe areas within detention centers that are used for coercive interrogations of suspects.
The Rangers have tortured the children of farmers to coerce them into signing tenancy agreements, according to testimony by 30 children interviewed by Human Rights Watch. Because the Rangers have targeted children of recalcitrant farmers for kidnapping and torture, schools in the affected areas have periodically closed down. In some cases, the paramilitary forces have even forced young couples to divorce by torturing husbands or other male relatives, as a means of publicly shaming their families. On military farms, employees who are related to farmers who have refused to sign the new contracts have been fired or barred from work and threatened with torture. "The Okara dispute demonstrates the reality of military rule in Pakistan," said Adams. "The military is going to great lengths to teach the lesson that anyone who resists its grip on the economy will be severely punished."
Land ownership remains one of the chief sources of wealth and social privilege in Pakistan. The Pakistani army is possibly the largest landholder in the country, and the military commonly dispenses land as patronage to civilians and perks to its own officers.

The governments of the West do these people, these regions and their own citizens much harm by perpetuating these injustices.
_________________________________________________________________________________________________
Very best wishes in the world,
Alex Higgins