Monday, August 30, 2004
"Body bags and deaths... why should I waste my beautiful mind on something like that?" (scroll below to see who said this)
Post US Election lament...
Killed in action in Iraq




"If you think about the fact that we have thousands of patrols every day … if you take all of those patrols, and look at the number of incidents, they're relatively small." Donald Rumsfeld, responding to the biggest US military death toll since Vietnam



Military Families Speak Out

"But why should we hear about body bags, and deaths, and how many, what day it's gonna happen, and how many this or what do you suppose? Or, I mean, it's, it's not relevant. So why should I waste my beautiful mind on something like that?" Barbara Bush



US wounded in Iraq reaches 7,000

Iraqi civilian deaths 37,000? One of the very few halfway-close estimates.

"We don't do body counts" General Tommy Franks



David Horsey, Washington, The Seattle Post-Intelligencer
By way of an update, on September 8th, US officials told ABC News that they reckon they have Bin Laden within an area of 40 square miles in the Waziristan area of Pakistan discussed above:
Four FBI and CIA agents are stationed with Pakistani troops to relay U.S. intelligence information, but even the Pakistanis have a hard time operating there. By treaty with the Wazir tribe, they are not allowed further than 100 yards on either side of the road, according to Ahmed, who once held a political post in the Northwest Frontier Province of Pakistan, which includes Waziristan.
"This really is a closed area," he said. "The government of Pakistan has very limited control. Beyond 100 yards of both sides of the road, they have no control, which means there is no criminal law, no civil procedure codes, no normal laws of Pakistan function."
Whether they are right or wrong about Bin Laden's location, there is reason to fear another episode of blood-letting in this region.
_____________________________________________________________________________________


Sort of a phony

November's presidential election in the US is almost upon us and already much lying and chutzpah is raging across American airwaves. Around the world there is much hope, which I certainly share, that the eyesore-presidency of George Bush

II

will come to a thoroughly deserved end. Certainly there will a huge international cheer and/or sigh of relief if he goes.
But what can we expect from his likely successor, Democratic Senator John F. Kerry?
Who is this Kerry, anyway? - you're not the first to ask. Back from his tours of Vietnam, Kerry became active in the anti-war movement and famously testified before in Congress in 1971, angrily denouncing the US record of atrocity in South-East Asia. His behaviour was noted by the Nixon administration, always keen to watch for any potential enemy within.
President Nixon spoke to his advisor, Charles Colson:
Colson: This fellow Kerry they had on last week.

Nixon: Yeah?

Colson: He turns out to be really quite a phony

Nixon: Well, he is a sort of a phony, isn't he?

Colson: He was in Vietnam a total of four months. He's politically ambitious and just looking for an issue

Nixon: Yeah

Colson: He came back a hawk and became a dove when he saw the political opprtunities.

Colson was wrong when he downplayed Kerry's Vietnam record (Kerry was in Vietnam longer than four months) as he did, but he does appear to have Kerry's essential opportunism sussed. Not that the highly paranoid Nixon White House was taking chances. Colson still feared that Kerry might prove a charismatic figure for the left in the US, and he issued a memo with the words:


"Destroy the young demagogue before he becomes another Ralph Nader."

As it happened, Kerry had no intention of becoming another Ralph Nader in any case. One striking feature about Kerry, and his running mate, Senator John Edwards, is that he is very, very rich indeed.

Forbes magazine estimates
the Kerry family fortune at $525 million, which would make Kerry, if elected, the third richest president in US history. George Bush, despite a lifetime of privilege and corruption, and despite his presidency's dedication to serving the very, very rich, doesn't have quite as much money as Kerry does.

The money comes from inheritance - it was the fortune of the late Senator John Heinz III, the husband of his second wife. In addition, Kerry owns considerable real estate, including a ski-home in Idaho (purchased for $4.9 million in 1988), a colonial estate in his home state of Massachuesetts, another waterfront home in that same state, as well as a town house in Boston and another in Washington DC, altogether valued at $33 million by the estimates of prying journalists.
A wonderful scene on the campaign trail was Kerry speaking to a group of dock-workers, whom he had come specially to visit - on his enormous luxury campaigning yacht, clearly visible behind him. It is this man that the poor and disposessed of the USA and it's hard-pressed working-class are supposed to see as their champion on Pennyslvania Avenue.
Diverting ourselves from New England to old England for a moment, this incredible financial gulf between politicians and most of those who vote for them, was the subject of a good piece from
Nick Cohen in The Observer
. Our Home Secretary, David Blunkett, the son of a Sheffield steel-worker who was killed in an industrial accident, has been in the headlines recently following the end of his romance with Kimberly Fortier, the US publisher of the right-wing Spectator magazine. Fortier and her husband, the publisher of Vogue magazine, bought their London abode in Mayfair (price: £2 million sterling), and Blunkett went on a retreat with her on the estate of Deborah Mitford, the Duchess of Devonshire (Cohen tells us reassuringly that this Mitford is one of the few people in her family not to have been a Nazi).
This is interesting, because whenever Blunkett wishes to break the law and/or impose some shocking piece of highly repressive legislation of the kind that might have provoked civil war in the 17th century, he puts his working-class credentials to work, declaring himself to be a man of the people and his libertarian and human rights critics to be effete out-of-touch bourgeois whingers from Hampstead. In reality, he prefers to hang out with people vastly wealthier even than the famous liberals of Hampstead and his bluster is what Cohen rightly calls, a piece of "stonking humbug".
In the last three months of 2003, the entire contribution from the trade unions to the Labour Party was matched by the donations of three rich people - Sir Christopher Ondaatje CBE, Lord Paul Hamlyn and William Haughey OBE. The working class are at risk of gradually outliving their usefulness to Britain's Labour Party, which can find funds from its friends in stratospherically high places.

Returning to the US, we find that the Kerry campaign has become bogged down somewhat in the quagmire of Vietnam. As Kerry has informed us on several occasions, he did his time in Vietnam and was awarded medals, including no fewer than three purple hearts - which are awarded for receiving a wound in combat. His record of service raises some important and disturbing questions - but these have been swept aside by a group of Vietnam veterans calling themselves Swift Boat Veterans for Truth who have run a series of campaign ads on national television that have upset Kerry greatly.
These ads accuse Kerry both of having not really earned his medals at all and of betraying his fellow soldiers and the US cause in Vietnam by becoming an opponent of the war and denouncing it as a discreditable, criminal episode in his testimony before Congress. This line of attack has led Kerry to bitterly decry efforts to smear his service record while running for cover over the war crimes allegations he made, saying he didn't really mean it.
This episode demonstrates that despite everything, much of US society has utterly failed to come to terms with the reality of the Vietnam war - that it was a war of aggression and atrocity with heavy racist overtones against a poor nation fighting for its independence. Kerry is not about to dent the advanced state of denial on this matter. Let us then join the swift boat veterans in their quest for truth then and see what we find...

Kerry had an odd war. In 1966, while still at university in Yale, Kerry sensed the mood in his college and gave a speech denouncing the war in Vietnam. Shortly afterwards, he signed up for the US army and was on route to Indochina - "it just seemed the right thing to do," he said. If this desire to prove his military credentials in a war he would keep on bitterly denouncing in public seems weird, that's because it is.

Kerry's first tour of Vietnam was on board the USS Gridley stationed off-shore, but on his second tour in 1968 he opted to serve on one of the Swift Boats that carried out search and destroy missions along the banks of the Mekong Delta in the very south of Vietnam.
Despite occasional Republican claims - repudiated by President Bush - that Kerry was not even wounded, he appears indeed to have shed blood on each of the three occasions for which he received the Purple Hearts, just as he won a Bronze Star for showing personal courage in combat - the Bronze Star for rescuing a Green Beret soldier who had fallen overboard while he (Kerry) was wounded. This incident is disputed but the rescued soldier, Jim Rassmann, credits Kerry with saving his life and, although a Republican, is campaigning for Kerry in the presidential elections.
His military critics have suggested, probably wrongly, that Kerry was not wounded and that he actually fled during the fighting.
As the arguments rage
, other aspects of Kerry's record however, are ignored.
For instance, Kerry admits to having shot a Vietnamese rebel in the back, killing him as he ran away. Not actually a war crime, but hardly a moment of glory. And indeed, in his previous testimony, Kerry admitted:

Yes, I committed the same kind of atrocities as thousands of other soldiers have committed... I took part in shootings in free fire zones. I took part in search and destroy missions, in the burning of villages. All of this is contrary to the laws of warfare.

Indeed. Back in 2001, Democratic hopeful Bob Kerrey was forced to give up on hopes running for president after the former Nebraska senator was
accused
by
one of his former soldiers
, Gerhard Klann, of having ordered his Navy SEALS team to round up Vietnamese women and children and shoot all of them on the spot in Thanh Phong in 1969. The details of the incident, and whether Kerrey really gave such an order,
remain in dispute
, though the deaths of the women and children do not and
the episode was enough
to cripple Kerrey's chances as a future presidential candidate.

John Kerry on the other hand is under fire not for committing war crimes, but for testifying that they occured. Here is an excerpt from
Kerry's testimony
to Congress:


Several months ago, in Detroit, we had an investigation at which over 150 honorably discharged, and many very highly decorated, veterans testified to war crimes committed in Southeast Asia. These were not isolated incidents, but crimes committed on a day-to-day basis, with the full awareness of officers at all levels of command. It is impossible to describe to you exactly what did happen in Detroit--the emotions in the room, and the feelings of the men who were reliving their experiences in Vietnam. They relived the absolute horror of what this country, in a sense, made them do.

They told stories that, at times, they had personally raped, cut off ears, cut off heads, taped wires from portable telephones to human genitals and turned up the power, cut off limbs, blown up bodies, randomly shot at civilians, razed villages in fashion reminiscent of Ghengis Khan, shot cattle and dogs for fun, poisoned food stocks, and generally ravaged the countryside of South Vietnam, in addition to the normal ravage of war and the normal and very particular ravaging which is done by the applied bombing power of this country.

Kerry now distances himself from this testimony, but he was right - and his description of US atrocities was as accurate as it was disturbing. But Kerry couldn't decide which image of himself he prefers, Kerry the war hero or Kerry the winter soldier who said no to a rotten war - whether to stick to his metaphorical guns or real ones.
Furious and disillusioned US veterans of that war sometimes threw away their medals in disgust - Kerry succeeded in throwing them away and keeping them. He claims to have thrown away the ribbons in his outrage, but kept the medals.

1968 was a particularly gruesome year from the war in Vietnam. The year began with an audacious offensive by the Vietnamese National Liberation Front (called the Viet Cong in the US) that led to major US losses and retreat throughout occupied South Vietnam. After the initial shock, the US hit back with awe-inspiring brutality.

The My Lai massacre, in which US soldiers rounded up between 400 and 500 Vietnamese villagers and murdered all of them, pausing only for breakfast, has become well-known and apporpriately notorious.
But apologetic commentators should not be allowed to get away with the frequent and frankly outrageously dishonest assertion that My Lai was an exceptional incident, properly reported and dealt with.
My Lai was not investigated for a full year after it happened. When first reported, it was ingored by the US press corps in Saigon on the grounds that it was too routine to bother investigating (rather disingenuous given that they did not usually investigate anyway). The US solider who reported the massacre to General Westmoreland, Tom Glen, referred to it only as "part of the abusive pattern that has become routine..."

A
Pulitzer Prize was awarded
to three journalists from the Toledo Blade in April for their work in uncovering a series of war crimes committed by an elite unit, Tiger Force, in the Quang Nai and Quang Nam provinces in central Vietnam.

"For seven months, Tiger Force soliders moved across the Central Highlands, killing scores of unarmed civilians - in some cases torturing and mutilating them - in a spate of violence never revealed to the American public... Women and children were intentionally blown up in underground bunkers... Elderly farmers were shot as they toiled in the fields. Prisoners were tortured and executed - their ears and scalps severed for souvenirs. One soldier kicked out the teeth of executed civilians for their gold fillings."

In 1971, the newspaper said, the Army began a criminal investigation that lasted four and a half years. Ultimately, the investigators forwarded conclusions that 18 men might face charges, but no court martials were brought.

In recent telephone articles for the New York Times, three of the former soldiers quoted by the Blade confirmed that the articles had accurately described their unit's actions.

But they wanted to make another point: that Tiger Force had not been a 'rogue' unit. Its members had only done what they were told, and its superiors knew what they were doing.

"The story that I'm not sure is getting out," said Mr. Causey, then a medic with the unit, "is that while they're saying this was a ruthless band ravaging the countryside, we were under orders to do it."

Burning huts and villages, shooting civilians and throwing grenades into protective shelters were common tactics for American ground forces throughout Vietnam, they said. That contention is backed up by accounts of journalists, historians and disillusioned troops.

Of course the largest, most lethal crimes of the war were not individual massacres or tortures but the massive saturation bombing of the southern Vietnamese countryside, involving the use of explosives on a scale and with an intensity exceeding that of the Second World War in Europe.

"Let this session of congress be known as the session which declared all-out war on human poverty" - President Johnson, January 8 1964
(cartoon, Victor Weisz, December 1965)
Kerry could point this out, and he could say that his testimony was not directed against the US soldiers who served in Vietnam but against the authors of the war in Washington. Kerry's testimony in 1971 - as is clear from an unedited transcript -was reporting the experience of devastated, angry and traumatised veterans and presenting their feelings to Congress (the Swift Boat Veterans for Truth ommitted this rather crucial opener in their ad).
But maybe Charles Colson was right, and Kerry was just an opportunist looking for an issue.

Kerry's other great moment in Congress came in 1987, with the Iran-Contra scandal (scroll below for 'Making America Dream Again'). Here Kerry performed his country a great service, working to expose the scracely believable corruption and amorality of the Reagan administration.
Kerry entered the US Senate in 1985 as Governor of Massachuesetts and when in 1986 he was contacted and told that the Reagan administration was involved in the sale of crack cocaine to fund the Contras' war against Nicaragua, he decided to push for a Senate investigation. A year later, as chairman of the Foreign Relations Subcommittee, he obtained approval for an investigation and the journey into Reagan's dark places began.
Nor was it an easy journey and Kerry was falsely accused of bribing witnesses by Republicans and generally messed around by butt-covering Democrats, but the investigation continued and for all its limitations, some important information was put where it belongs - in the public sphere. And what seemed like the most fantastic of conspiracy charges turned out to be dead right.

There were partisan advantages to exposing this scandal, but Kerry proved capable of turning the spotlight on the Democratic Party with
another awkward investigation
into the Bank of Credit and Commerce International based in Abu Dhabi, which turned out to be an enormous criminal enterprise for laundering money for narcotics-traffickers, dictators, terrorists, the CIA, Henry Kissinger, Jimmy Carter, the Democratic Party... The BCCI was shut down in 1991 and many of its creditors lost billions of dollars. Kerry's report in 1992 had harsh words for a lot of people including the CIA whom Kerry charged knew BCCI to be "a fundamentally corrupt criminal enterprise, [but] it continued to use both BCCI and First American...for CIA operations."
In 1993 Kerry also carried out an investigation alongside Senator John McCain into the issue of remaining US prisoners of war in Vietnam - an issue which had been used by the US government as a feeble pretext to continue its efforts to isolate and punish Vietnam after the war. Kerry's investiagtion demonstrated that it was very unlikely that any US POWs remained in Vietnam, paving the way for a normalisation of relations under the Clinton administration.
As Nation writer, David Corn notes, these
efforts are not bad
for a US senator. It is worth noting at least this difference between Kerry and Bush - Kerry has spent much of his life investigating scandal and fraud, while Bush has spent much of his being investigated for, er, scandal and fraud.

Kerry has also cast some good votes in his time at the Senate - voting against an escalation of the arms race with the Soviet Union in the 1980s, against the ridiculous Strategic Defense Initiative (Star Wars) and against the Persian Gulf War in 1991.
But as Kerry steps nearer to political power, so the compromises begin and Kerry is found to be flip-flopping just as his detractors yelp.
The issue dominating US and international politics is the US war in Iraq. Now that the rationales for the war have collapsed, the smell of burning emanates from the Bush administration's pants, Iraqis express their bitter disappointment and the US death toll passes 1,000, George Bush has every reason to fear the US electorate.
Instead, it is Kerry who has been on the defensive for much of the campaign. He wishes to exploit Bush's weakness while simultaneously supporting the war and defending his own decision to vote to authorise the use of force in Iraq.
How does he feel about voting for war on the basis of a false prospectus?

'If we hadn't voted the way we voted, we would not have been able to have a chance of going to the United Nations and stopping the president, in effect, who already had the votes and who was obviously asking serious questions about whether or not the Congress was going to be there to enforce the effort to create a threat.'

You can try and make sense of that if you wish, but the onus is on Kerry to explain why the electorate should bother.
On this crucial issue Kerry insists that he would have invaded Iraq even though the 9/11 Commission rejected claims that the regime of Saddam Hussein is implicated in the September 2001 massacres, and despite the absence of a meaningful Iraqi programme for the development of unconventional weapons. So what would he have done differently? Kerry suggests vague ideas about a much larger occupation force or greater involvement from other countries through more careful diplomacy than Team Bush has proved capable of. None of these ideas seriously address the reality of Iraq or the state of international opposition to the war.

On other subjects Kerry is similarly inane. He has nothing whatever to offer the Palestinians, the USA's unwanted children (and vice versa), merely repetitions of the standard mantras of official Israeli chauvinism that have got everyone nowhere.
On
Latin America
, Kerry has hinted that Bush has been neglectful of the region and that treaties such as the Central America Free Trade Association are unfair and need renegotiation. Beyond that, Kerry's pledge to make Latin America a priority for his attention will send chills down the spines of people throughout the region, familiar as they are with the attentions of their Bad Neighbour to the north.
Kerry actually goaded Bush for failing to give enough support to the right-wing opponents of Hugo Chavez in Venezuela whose sole plan for the country is to return it post-haste to the days when it had a government of the rich, by the rich, for the rich. It also undermines Kerry's previous pledge that his administration will be neutral in Latin American elections.

Kerry has also earned himself a reputation as a super-hawk when it comes to the endless pursuit of the War on Drugs, a war where victory is always elusive and collatoral damage the primary consequence. As we have seen in his investigation of the Reagan administration's collaboration with narcotics-smugglers and the BCCI, the trade in illicit narcotics has been a long-term interest of Kerry's. His insistence then and now that the Reagan administration wasn't serious enough in its pursuit of this policy could mean that as president he will take the hysterical War on Drugs to new and
still more destructive heights
.

Kirk Anderson
What about climate change? Kerry will probably move a liitle distance from the screw-the-planet-we-don't-care approach of the Bush administration, but even then, he hasn't brought himself yet to endorse even the minimalist Kyoto Protocol.
For people in the US,
particularly the poor
, Kerry should be some improvement on Bush, but how much is hard to tell. Since the Bush administration has run up the greatest deficit in US history, his successors will find their hands tied when it comes to spending money on healthcare and social welfare. It seems unreasonable to expect that many of those
queueing up outside soup kitchens
will see a lot from a Kerry administration without popular mobilisation. But at least Kerry has pledged to try and extend health insurance cover to a much larger percentage of the population - currently there are 43 million people in the US with no such cover, and the number increases by about 1 million each year. Kerry is
committed to doing something about this
, while we can only expect the worst from Bush. Kerry is also pledged to reversing some of Bush's tax cuts for the uber-rich and to raising the minimum wage.

The right-wing detractors of Kerry wave before us the prospect of "the most liberal ticket in history" holding up the vision of a White House run by Michael Moore and Ted Kennedy. I think not somehow...
Some left-wing opponents such as
Gabriel Kolko
, Alexander Cockburn and
John Pilger
have generally suggested that there is no meaningful difference between Kerry and Bush, or even suggesting that Bush might be the lesser evil. Certainly, Cockburn is right to stick up for those who are trying to offer a left-wing alternative to Kerry against the stream of abuse from the Democratic Party, and to reject the way voters are cowed with the demand that they should support the lesser of two evils - why should they put up with any kind of evil?
But it is wrong to dismiss the difference between Kerry and Bush for those, especially
the poor in the US
, who are likely to be better off, or do less badly, under Kerry. Small differences can mean life or death for some.
Kolko and Pilger's argument appears to be that under the more psychopathic Bush administration, US imperialism will be less effective. This sounds like playing with fire to me, but you can read their arguements and make your own mind up.

Where Kerry differs from Bush it is generally for the better and the damage done by another four years of the current administration is a fearful prospect, but for those committed to social justice, celebrations on Kerry's entry into the White House will be a pretty short affair.

_____________________________________________________________________________________
Michael Moore on left-wing pessimism and Kerry:

If I hear one more person tell me how lousy a candidate Kerry is and how he can't win... Dammit, of COURSE he's a lousy candidate -- he's a Democrat, for heavens sake! That party is so pathetic, they even lose the elections they win! What were you expecting, Bruce Springsteen heading up the ticket? Bruce would make a helluva president, but guys like him don't run -- and neither do you or I. People like Kerry run.
Yes, OF COURSE any of us would have run a better, smarter, kick-ass campaign. Of course we would have smacked each and every one of those phony swifty boaty bastards down. But WE are not running for president -- Kerry is.
Which of course, raises the point of why this is and what the rest of us might want ot do about it.
____________________________________________________________________
_____________________________________________________________________________________
Raining in my Heart
In 2001, 5,910 people in the United Kingdom took their own lives, about 114 a week or 16 each day. One
survey
by the National Office of Statistics suggested that about one in six adults in Britain think about ending their lives themselves over the course of their lives, roughly 4% of the population in a year. In addition, 10% of young people will self-harm by cutting or burning themselves.
The government has set itself a target of reducing the number of people committing suicide by 5% by 2010, although at the last count, the figure had increased by 1%.

Throughout the United Kingdom as a whole, the suicide rate in a year is 15 per 100,000.
But in Northern Ireland, the suicide rate is at 26 per 100,000.
The tragedy is badly affecting the UK's most tragic region. Many of these suicides are concentrated in North and West Belfast, the poorest areas of Northern Ireland's capital.

You can probably guess that a sad illustrative case is coming up, but we should take note of what is happening.
On August 2nd this year, Belfast families from across the sectarian divide met to talk and come to terms with their collective loss. The event's organiser Irene Sherry said: "No one knows the sleepless nights or unspoken tears of the countless numbers of those affected. Nobody knows the silent stories of those affected."

Debbie McComb, 15, was killed by a joyrider in 2002. Joyriding is another blight faced by residents in Belfast, a fact that has led both the British Army and the Provisional IRA to use extraodrinary brutality against joyriders. Debbie's heartbroken parents set up a group to help those in their situation, Families Bereaved Through Car Crime.
But Debbie's older brother, Michael, 19, who had long suffered from depression, then went and committed suicide in May this year and the family were bereaved again.

Michael's depression had eventually consumed him despite his intensely loving relationship with his long-term childhood sweetheart, Fiona Barnes, 18. Michael and Fiona had moved into a flat together, had a holiday in Spain planned in August this year and had talked about starting a family.

Fiona was devastated by Michael's death. While going out with Michael she had spent more and more time with him and when he died, she continued to do so, sitting by his graveside in West Belfast for long periods. On August 1st, she hanged herself next to Michael's grave.
Her father Aidan said, "She took Michael's death very badly. She could not handle it. I would say she had thought about it - I reckon she sat beside his grave all night... We got her counselling and all, but more or less the child had made her own mind up. She was broken-hearted over her boyfriend. She just couldn't handle it."

Fiona Barnes and Michael McComb
Bernard Caines
, 18, was found hanged in Holy Cross Church in North Belfast in February this year within hours of the burial of a friend of his, Anthony O'Neill who had also killed himself. He became the 13th young man to destroy his own life in Belfast in a period of six weeks.
As David McCittrick reprted for the Independent, locally, the deaths of Bernard and Anthony are widely attributed to threats and bullying by the Irish National Liberation Army (INLA), a small Republican paramilitary force that in the days since the ceasefire directs its energies against Belfast teenagers rather than British soldiers (a curious rule of thumb in Northern Ireland is the smaller the armed group, the more disgusting the artocities they commit to make up their size, a rule that the INLA has done much to establish).
Some months before he had died, INLA members stuffed Anthony into a manhole and kept him there for hours before beating him, accusing him of antisocial behaviour (irony not intended) - presumably meaning they suspected him of involvement in joyriding.
Anthony's older sister, Patricia relates:
"Before the attack, Anthony was just a normal teenage boy, buying clothes and going out with his friends. He was generally happy, but after the beating he deteriorated. He was never the same... One of the boys maybe stole a car or whatever, and he'd have been in the car. After the beating he got very depressed, very withdrawn. Basically, Anthony lived in fear. When he was in my house he was always looking over his shoulder. We had to lock all the doors to reassure him. Anthony hadn't done anything in months, because he was too paranoid to go out, but they still tortured him. One of the INLA would point at him, using his finger like a trigger."

[One interesting note - working-class people in Northern Ireland, despite everything, usually leave their doors unlocked, as visitors will notice immediately.]

The Ardoyne is a very crowded working-class district in North Belfast with both Catholic and Protestant areas, which suffered disproportionate losses during the war (1969-1997). When Bernard Cairns' uncle is asked how many family members were lost during this period, he answers, "Five".

Going back a decade to January 3rd, 1994, the Ulster Volunteer Force, a loyalist paramilitary group, attacked the Shields family at the Lisnalgeer crossroads near Dungannon, killing 20 year-old Diarmuid Shields and his father Patrick, 51. His mother, two brothers and 12 year-old sister lived because one of the assailants' guns jammed.
The guns were provided by South Africans sympathetic to the cause of Ulster loyalism. Prior to the attack on the family, they had been harassed by the Ulster Defence Regiment (a local standing army formed out of the notorious B-Specials in the 1970s - now the Royal Irish Regiment) the police had visited, searched the house, drawn diagrams of the interior of the Sheilds' grocery store and confiscated a legally held gun - a standard precursor to a loyalist death squad rampage.

The death of Diarmuid Shields devastated his girlfriend Julie Statham, 20, who took her own life within a month, leaving this message:


"When they killed my darling, they killed me too. I have tried to cope for an entire month. Despite my outward appearance I am dead. I may be breathing and moving but what use is that when I don't have any emotions left inside me?
'When two shots were fired, my life ended. I may, at one stage, have had lots to live for, but 27 days ago everything that mattered was snatched from my grasp - never to be replaced. You all mean the world to me, but I couldn't let you watch me being miserable. So this seemed a sensible solution - well it did to me. Let me also tell you Mum and Dad - how very sorry I am for the pain I've caused." *

On a subsidiary note, people who commit suicide are often accused of wishing to hurt others or of selfishness, but the sentiments of agonised concern for others expressed by Julie are rather more typical. People generally commit suicide because the pain they feel overwhelms the resources they feel they have to cope with it. Her friends say of Julie that "she died of a broken heart".

The pain and loss of people like Julie Statham before the Northern Irish war reached an impasse in the mid-1990s continues into the new Northern Ireland. The wounds in this society are sore and deep, some relating to the war, others more generally to the reality of living in a poor community going nowhere. Aside from specific problems such as a lack of resources and awareness of mental health issues, it seems likely that the unusually high rates of suicide in Northern Ireland are a symptom of general social failure, and one that none of the various actors in the official peace process are seeking to address.

* Julie's letter is cited in 'Lost Lives' compiled by David McKittrick, Seamus Kelters, Brian Feeney and Chris Thorton, a comprehensive volume of all the deaths in the Northern Irish conflict 1966-1999. It is a thick book.

_____________________________________________________________________________________
Drenched with the sweat of shame
In earlier posts, we saw that the Iranian civil rights movement and revolution-in-waiting was dealt a severe blow with the theft of the February elections by the worst elements within the regime.
The regime free to run the country in the manner they see fit, 16 year-old Ateqeh Rajabi was sentenced to be hanged in public for "acts incompatible with chastity". In addition, the judge harshly reprimanded Ateqeh for dressing immodestly and being impertinent. She was hanged on August 15th in a street in the centre of Neka, a town in the northern province of Mazarandan.

As yet, there is little information available on this discreditable episode.
Amnesty USA's account
offers some details. They suggest that Ateqeh was denied access to a lawyer and was obliged to conduct her own defence - apparently in a manner the sensitive judge found rude. In addition, the court ignored Ateqeh's mental illness - so we have a public execution of a young mentally ill girl for unspecified sexual conduct. Amnesty hits on the right word - outrageous.
The man complicit in her unchaste act was - ! surprise ! - given a lesser sentence. Though 100 lashes is not very much lesser.
Ateqeh was sentenced by a small local court and the decision to hang her was upheld by the Supreme Court. She is the tenth person under the age of 18 to be executed in Iran since 1990. A bill to end the execution of young people under the age of 18 was apparently considered by the Iranian parliament in December 2003 but has not been ratified by the unelected Guardian Council, who, as it happens, were the people who fixed the candidate list for the last election.
Information on cases like these is always hard to come by, possibly more will emerge and we will have a fuller picture.


Meanwhile, back in England, a scarcely believable court judgement has been passed on an Iranian seeking refuge here - he was told that although the authorities in Iran would try and execute him, he need not fear because he could always bribe his way out of it. This is one of those stories that makes you question whether the world is actually real or whether it is some extraordinarily twisted dream, the illusory product of a highly disordered mind.
24 year-old
Shahin Portofeh
is an Iranian homosexual who faces the prospect of being stoned to death if he returns to Iran and fled to England in 2002, where he has since lived in Coventry.
The courts have been after him to prove that he was actually sentenced to death in Iran, a task made difficult by the realities of obtaining documents from a totalitarian regime. His family were hard-pressed to send documents from Iran without putting themselves in danger. When Shahin's sister did manage to smuggle a copy of the court order, the Home Office chose to dismiss it on the grounds that such a feat would be too difficult for his sister and so must not have happened.
In July last year,
Shahin resorted to desperate measures
to delay the threat of deportation - sewing up his mouth, eyes and ears, going on hunger strike and refusing medical treatment. He was taken to hospital and there friends persuaded him not to go through with his suicidal protest.
The Home Office described the protest as "regrettable" and announced thoughtfully that it would have "no bearing" on their decision.

Shahin Portofeh during his hunger strike
The Private Eye (No. 1114, 3-16 September 2004) reported that the letter of deportation sent to Portofeh's lawyers cited by a Home Office official "acting on behalf of the Secretary of State [Daivd Blunkett]" cited the judgement by the independent adjudicator that Shahin "would still not be liable to prosecution upon retun. He could relocate and he could in fact bribe his way out of trouble."

Shahin's case is not yet lost - a number of trade unions and MPs have taken it up and are appealing directly to David Blunkett. Write to the Home Office and you can provide the pressure that might tip the balance in Shahin's favour.

Rt. Hon. David Blunkett MP
(you don't have to bother with the "right honourable" bit)
Home Secretary
Home Office
50, Queen Anne's Gate
London
SW1H 9AT
Still, it's not all bad news in Iran. The economy is going nowhere and the poor are very poor (the average Iranian income is $1,800 a year) but the people who run the country are very rich indeed and increasingly so.
There was a time when the Iran's mullahs passed moderate social reforms and denounced "blood-sucking capitalists" who exploited the poor under the Shah. In time however they have come to the view that blood-sucking capitalism is not so bad after all. As Paul Klebnikov wrote in
a report for Forbes magazine
last year (Klebnikov was murdered in Russia for his reporting by unknown assailants in July):



"The economy bears more than a little resemblance to the crony capitalism that sprouted from the wreck of the Soviet Union. The 1979 revolution expropriated the assets of foreign investors and the nation's wealthiest families; oil had long been nationalized, but the mullahs seized virtually everything else of value--banks, hotels, car and chemical companies, makers of drugs and consumer goods. What distinguishes Iran is that many of these assets were given to Islamic charitable foundations, controlled by the clerics. According to businessmen and former foundation executives, the charities now serve as slush funds for the mullahs and their supporters."



Much of this was made possible by Ali Akbar Hafsan Rafsanjani, an ally of the Ayatollah Khmoeini in the 1980s, Iranian president from 1989 to 1997 and now chairman of the prominent and aptly named Expediency Council:



"He is also the father of Iran's "privatization" program. During his presidency the stock market was revived, some government companies were sold to insiders, foreign trade was liberalized and the oil sector was opened up to private companies. Most of the good properties and contracts, say dissident members of Iran's Chamber of Commerce, ended up in the hands of mullahs, their associates and, not least, Rafsanjani's family, who rose from modest origins as pistachio farmers."



Ayatollah Taheri resigned in protest at this descent into profiteering and corruption:

"When I hear that some of the privileged progeny and special people, some of whom even don cloaks and turbans, are competing amongst themselves to amass the most wealth, I am drenched with the sweat of shame."

The people of Iran have been most unfortunate to have endured two of the world's most repressive regimes in succession, from the US-backed Pahlavi dynasty to Khomeini's hangmen who hijacked the 1979 revolution and butchered the Iranian left that had made that revolution possible. It is to be hoped that the struggle for freedom will resume once more.

NB - the strong opposition to the regime in Iran expressed on this website should absolutely not be seen as suggesting support or approval for US or Israeli military action against this country, which is a very, very bad idea indeed.

_____________________________________________________________________________________
Olympic Spirit
The 2004 Athens games ended with some embarassment and controversy, but on the whole the Greek government had succeeded in pulling off the organisation of the games despite the criticisms and fears.
In the run up to the Athens' games, there were many alarmed press reports as to whether the organisers would complete the necessary facilities on time, often with a tone of contempt for the Greeks thrown in.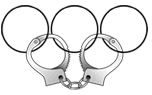 Oddly, there is, as yet, much less controversy over the preparations for the 2008 Olympics which are due to be held in Beijing. On its website, the
International Olympics Committee
gushes excitedly:

"a Beijing Games would leave a unique legacy to China and to sports. The Commission is confident that Beijing could organise an excellent Games".

A link below this reassurance offers us - "Find out more on the election of Beijing". The 'election of Beijing' - now there's an interesting turn of phrase.

Human Rights Watch, which has launched a campaign -
Olympics Watch
- reports on the preparations underway to make China's capital ready:

China's rapid urban development, fueled in Beijing by preparations for the 2008 Olympics, is leading to the eviction of homeowners and tenants in violation of Chinese law and international standards on the right to housing. In many cities, Chinese local authorities and developers are forcibly evicting hundreds of thousands of homeowners and tenants who have little legal recourse. Evicted residents left with few avenues of redress have increasingly taken to the streets to protest, where they have met police repression.

An earlier
HRW report on forcible evictions in Beijing
begins with this story:


"At 8:45 on the morning of September 15, 2003, forty-five-year-old farmer Zhu Zhengliang and his wife sat down in Tiananmen Square under the portrait of Mao Zedong. As his wife quietly watched, Zhu doused himself with gasoline and set himself alight. Police stationed in the square rushed to his aid, and Zhu was hospitalized in Beijing with minor burns on his arms and back. According to news reports, Zhu attempted self-immolation to protest his family's forced eviction from their home in a rural region of Anhui province.
'Zhu's was the most prominent, but by no means the only, attempted suicide to protest forced evictions in China in 2003. In August, a Nanjing city man who returned from a lunch break one day to find his home demolished, set himself afire and burned to death at the office of the municipal demolition and eviction department. In September, resident Wang Baoguang burned himself to death while being forcibly evicted in Beijing. On October 1, China's National Day, Beijing resident Ye Guoqiang attempted suicide by jumping from Beijing's Jinshui bridge to protest his forced eviction forconstruction related to the 2008 Beijing Olympics.5 These suicides and attemptedsuicides were the most dramatic in a wave of almost daily protests that swept cities across China from September to December 2003."

In a courageous open letter to the Chinese government, a lawyer and tenants' rights advocate, Xu Yonghai, explained:


"Demolition and eviction has several decades of history in China. In the past, ordinary people longed for demolition and eviction [because they were moved to better homes], but now ordinary people fear demolition and eviction, they hate [it], and even use death and suicide to oppose [it]... This hatred, this opposition to demolition and eviction has really only appeared in the last few years."

The reasons for this change is that many Beijing residents can no longer expect to receive compensation when their homes are demolished and the demolition itself is often a callous and violent process with armed gangs carrying out evictions and bulldozers starting their work before people leave the area. Faster, higher, stronger! as the Olympic motto goes. Xu Yonghai has since been imprisoned for "circulating state secrets" (i.e. faxing the above to a human rights organisation). Oh Lord, these people annoy the hell out of me.

Athletes are not the only people who will be working faster, higher, stronger. In the deformed worker's state, as some still like to call it, the workers are forbidden to strike or form independent labour unions:


"Many workers also lack minimal health and safety protections and adequate wages. Many are compelled to work long hours. Some contract workers may not even be paid by factories for the work they have done.

'Because they lack the right to organize independently, Chinese workers also lack effective ways to resolve these problems in the workplace. Many workers who have organized protests and demonstrations to improve conditions or demand compensation for injuries in the workplace, as well as those who have demanded unpaid wages and unpaid pensions and severance pay, have faced severe state repression. The ACFTU [government-approved trade union body] has never spoken out against the laws and regulations routinely used to justify imprisoning independent labor activists." (emphasis added)

HRW adds that international companies involved in the Olympics preparations are "generally required to abide by these conditions" - as if they needed to be forced into screwing their workforce! In reality, many multinational corporations love China precisely because its one-party dictatorship is so good for business.

Such criminal conduct by the Chinese government helps to expose the fanciful notion that holding the Olympic games in China will help to usher in a new age of political pluralism for the self-serving guff that it is. In electing Beijing, the IOC has made one of its worst decisions since going ahead with the 1936 Olympics in the Berlin of Hitler's Germany.
Dictatorships use international sporting events to give themselves legitimacy and to divert attention from social problems, of which China has many. Furthermore, they are aware of the potential for dissenters to use the international media presence to tell the world what goes on in the country's dark corners and respond by taking pre-emptive measures.

In one notorious example, the World Cup in 1978 was held in Argentina, then run by a military junta made up of outright Nazis. In the run-up to the international football tournament, the regime stepped up the imprisonemnt and torture and killed hundreds of people, drugging them, tying them up and dropping them out of aeroplanes into the Rio Grande to ensure the World Cup went smoothly. Argentina's team went on to win the cup - now there's a story to warm the heart.

Can we expect a similar crackdown in China faced with democrats, persecuted religious minorities, Tibetans, and hundreds of millions of poor people who have had enough? In China a security crackdown is something that might make even John Ashcroft or David Blunkett blink - as with what Amnesty International described as an
"execution frenzy"
a few years ago when the regime decided to punish criminal offences such as corruption and prostitution with the enthusiastic use of the death penalty.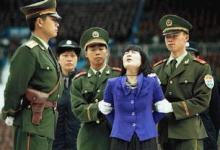 A woman is led to her execution following a crackdown on crime in 1999
Some human rights groups have got together to produce
a set of minimal demands
that the Chinese government should be obliged to meet before being permitted to host the Olympic Games. Failing that - and this is likely - we should boycott these games. Occasionally in the West our governments go through the motions of pretending to deplore the Chinese government's human rights record or
the occupation of Tibet
. More usually, they are fairly open about the fact that they don't care (and that they have written off Tibet). The rest of us need to decide whether we share that view.

HRW:

"There are many ways that people outside of China can support Chinese rights activists—by writing a letter to the government, using the Internet to help Chinese citizens get around censorship restrictions, or by linking up with other Chinese and international activists to help build the movement."


It would be wonderful for China to have the Olympics at some point in the future, but not under the current regime.

For more information, see the
Olympic Watch website
.

_____________________________________________________________________________________
What seems like just another massacre
The eastern Congo and Burundi have both been at war for about a decade, but a sudden outburst of massacre on the border betweeen the two briefly caught international attention for as long as the media here could strain to care about it (not long).
Insisting on the importance of the episode, Alsion Des Forges, a senior adviser to the
African Division of Human Rights Watch
said that the episode "could spiral into renewed war in central Africa" even though it "seems like just another massacre in a refugee camp" - a phrase that rather powerfully illustrates the character of the conflicts here.

On August 13th, a militia of about a hundred men and women armed with machine-guns, grenades and machetes descended on a UN refugee camp at Gatumba in western Burundi, along the border with the Congo, singing religious songs. There they
killed 189 men, women and children
- mostly women and children. Courageously, the attackers began their assault as most of the refugees lay sleeping and killed those who tried to flee, murdering 159 on the spot while 30 of the 101 people wounded died later in hospital. The victims were mostly Banyamulenge, a Congolese ethnic group usually associated with the Tutsi.

The perpetrators are mostly from a group calling themselves the Front for National Liberation, a Hutu ultra-nationalist rebel group operating from South Kivu in the Congo, a fact later confirmed by a spokesman for the group, Pasteur Habimana who explained to journalists that "Burundian soldiers were hiding in the camp, located about a half mile from an army position."

Briefly a German colony towards the end of the 19th century, Burundi was occupied by Belgian forces during the First World War and was given to the Belgian government by the Laeague of Nations. As in Rwanda, the Belgian colonial masters manipulated the country's social tensions and chose to run the country through the artificially created ethnic group, the Tutsi, privileging them above the rest of the population.
Independent in 1962, Burundi was crippled by this ethnic division as the Tutsi minority continued to prevent the Hutu from acheiving equal status. King Mwambutsa IV, to whom the Belgians passed control refused to appoint a Hutu prime minister even though Hutus comprised the majority of members of the country's elected parliament. An attempted coup by Hutu police led by Michel Micombero that year became one of many opportunities for the Tutsi-supremacist regime to massacre Hutus.
Mwambutsa was deposed by his son Ntare V in 1966 and Micombero made another attempt at power, this time successfully, proceeding to create a self-centred military regime. But a Hutu uprising in 1972 prompted a severe response from a regime still largely dominated by the Tutsi elite,
killing between 100,000 and 200,000
Hutus. Samantha Power, in her book on such episodes ("The Problem from Hell") cites a secret US embassy cable when killings reached about a thousand a day in May 1972:

"In Bujumbira we were able to see [when] shouting men surrounded Hutus and clubbed them to death in the streets. The army throughout the land and revolutionary youth groups arrested and executed Hutus, including secondary school students. After a month we can assume only a relative handful of educated Hutus... are still alive. The toll may be above tens of thousands... Trucks ply the road to the airport every night with a fresh contribution to the mass grave."

It was an eerie precursor of Rwanda in 1994 - but this time with Hutus as the primary victims and Tustis as the major perpetrators. The US government stuck to its commitment not to raise human rights as an issue in its relations with Burundi, not to interrupt US-Burundi commercial relations and to "avoid any indications of taking sides" as Secretary of State William Rogers put it. "Do you know of any official whose career was advanced beacuse he spoke out for human rights?" said on State Department official cautioing a subordinate not to rock this particular boat.
"Our general proscription is that Africans should settle African problems", US ambassador Thomas Patrick Melady put it - a privilege extended to the genocidal government in Burundi but not to Angola or Mozambqiue, to mention a few African countries not permitted to settle their problems and shortly afterwards subject to unwanted US/South African intervention.
The problem was left to the Organisation for African Unity which declared its "total solidarity" with the victims. Just kidding - the solidarity was for the perpetrators.

Micombero was displaced by a military coup in 1976. A couple of military regimes and many more episodes of racist massacre later, Burundi finally seemed on the verge of a breakthrough in 1993 as a new constitution allowing for a multi-party system was established. In June, Melchior Ndadaye, a Hutu, defeated the army's incumbent candidate Pierre Buyoya.
But in October, Ndadaye was assassinated by Tutsi army officers, supporters of previous military ruler, Jean-Baptiste Bagaza (1976-1987) and the current civil war began in which an
estimated 300,000 have been killed
. A newly appointed Hutu Prime Minister, Cyprien Ntaryamira, was killed in 1994 when his plane was shot down on April 6th, 1994 in the same incident that served as a trigger for genocide in neighbouring Rwanda. His successor Sylvestre Ntibantunganya could not keep Tutsis in his government and was deposed in a coup by Buyoya, returning to power once more.
In 2002, a ceasefire was signed and in 2003 a transitional coalition government consisting of the major Tutsi and Hutu parties was created in a peace process sponsored by South Africa though like many peace processes, Burundi's accompanies an ongoing war that hasn't quite stopped.
As the UN began its investigation
into the Gatumba massacre, its initial reports suggested that the attackers included not only FNL personnel but also Congolese tribesmen, the Mai Mai, and Congolese troops:


Assistant Secretary-General Hedi Annabi briefed the Security Council at a closed-door meeting Friday on the initial results of an investigation by the U.N. missions in Burundi and Congo and the U.N. High Commissioner for Human Rights.

"It seems that several groups involving people from several countries in the region may have had a part in the events," said Spain's U.N. Ambassador Juan Antonio Yanez-Barnuevo, the current council president.

Secretary-General Kofi Annan recently cited reports that the Burundian rebel National Liberation Force, which has claimed responsibility for the massacre, operated in alliance with Congolese tribal fighters known as Mai Mai, and Rwandan Hutu rebels from the ex-FAR, or members of the former Rwandan military, and Interahamwe militias who fled to Congo after playing a central role in the 1994 genocide in Rwanda.

"All the indications continue to be in that direction," Yanez-Barnuevo said, when asked whether the preliminary finding agreed with Annan's initial reports.
Human Rights Watch, however, strongly contested the UN investigation
and issued
a briefing paper
refuting it - Des Foges insisted that "the accepted version of events is wrong". HRW stated that the evidence for the UN's claims was thin and that in the situation of central Africa, with both the Burundi and Congolese peace processes failing to make hoped-for progress, rather dangerous.
HRW's anxiety was prompted by declarations from both the governments of Rwanda and Burundi that they were cotemplating
military retaliation against the Congo
(where they have already done huge amounts of damage - particularly Rwanda) for Gatumba. Correctly, Des Foges insted that military action could only be a mistake and that the proper was course was to indict those responsible as war criminals and seek justice for the victims through long-term legal measures.

Despite this, HRW defended the UN, in charge of peace-keeping in Burundi, from accusations that they had chosen not to protect the refugees in their own camp - pointing out that local authorities in Burundi had failed to inform UN forces of the Gatumba massacre until it was over. The Burundi army and police themselves did not come to the aid of Congolese Tutsi refugees though they were stationed nearby - apparently because they had come under attack themselves.

In the absence of a more serious international diplomatic effort or a popular, democratic political alternative to the politics of ethnic division, central Africa remains one major massacre away from a larger regional war.

_____________________________________________________________________________________
Fight to Lose
For some time now there has a been a journalistic cliche of how the US public was prepared to accept military action abroad by its government but would balk in the face of body bags coming back home.

Well, what a load of rubbish that turned out to be. Incredibly George Bush and the Republican Party succeeded not only in not being hurt by Iraq but in actually turning it into their major selling point at the National Convention in the same week as US losses reached a thousand dead. The polls bounced for Bush while the anti-war movement appears to have been downsized. Words fail - this is staggering.

There is a massive disconnection between the reality in Iraq and public perception both in the US and eleswhere around the world. The US is fighting a losing war - heading on a steady trajectory towards a bloody and humiliating defeat with a steep, steep cost for both Iraqis and Coalition forces. Let's emphasise that word - DEFEAT. US defeat is not a gloomy prediction, not a hope, not an argument - it is a reality that everyone now has to deal with whether they like it or not, and the sooner we do, the better for everyone. It was a Republican senator, Chuck Hagel of Nebraska, who made headlines by
pointing out the very obvious
:

"No, I don't think we're winning. We're in trouble, we're in deep trouble in Iraq."

Drew Sheneman
, New Jersey --
The Newark Star Ledger
Donald Rumsfeld recently declared that he had stopped reading the newspapers - perhaps that is why he can try and convince the US public that Iraq is no more dangerous a place to be than Detroit on a bad day. President Bush, perhaps to be with us for another four years, announces that he is
"pleased with the progress"
in Iraq - a statement that begs the question of what exactly would come as a disappointment. Mind you, he did call on the Iraqi insurgents to bring it on, so maybe that is what is he is referring to.

Behind the scenes, many in the Bush administration, military elites and intelligence agencies are not so delusional. In private, there is not nearly so much of the constant public refrains of success and victory. Sidney Blumenthal, a former adviser to Clinton,
quoted a few voices
highlighting this disconnect between the US military establishment and the civilian leadership in the Pentagon:


"I see no ray of light on the horizon at all. The worst case has become true..."
Jeffrey Record, professor of strategy at the Air War College


"I don't think that you can kill the insurgency. We have a growing, maturing insurgency group. We see larger and more coordinated military attacks. They are getting better and they can self-regenerate. The idea there are x number of insurgents, and that when they're all dead we can get out is wrong. The insurgency has shown an ability to regenerate itself because there are people willing to fill the ranks of those who are killed. The political culture is more hostile to the US presence. The longer we stay, the more they are confirmed in that view... Most Iraqis consider us occupiers, not liberators"
W Andrew Terrill, professor and leading Iraq strategist at the Army War College's strategic studies institute



"The idea that this is going to go the way these guys planned is ludicrous. There are no good options. We're conducting a campaign as though it were being conducted in Iowa, no sense of the realities on the ground. It's so unrealistic for anyone who knows that part of the world. The priorities are just all wrong"


General Joseph Hoare, former marine and head of US Central Command (retired)

"I've never seen it so bad between the office of the secretary of defence and the military. There's a significant majority believing this is a disaster. The two parties whose interests have been advanced have been the Iranians and al-Qaida. Bin Laden could argue with some cogency that our going into Iraq was the equivalent of the Germans in Stalingrad. They defeated themselves by pouring more in there. Tragic."
General William Odorn (retired)
The anti-war conservative writer Robert Novak, with sources in the Bush administration, recently wrote a column for the Chicago Sun-Times suggesting that behind the scenes, officials were considering the prospect of giving up trying to control Iraq's political future - and that Condeleeza Rice and Paul Wolfowitz are among those reconciled to this (Rice has since denied this).

We might also recall General Anthony Zinni, former commander of US forces in the Gulf region under Clinton, who described the Iraq war as "a brain fart".

Some readers might be surprised by the concentration on the suffering of Coalition soldiers on this site. There are a number of reasons for this - first that I find their loss and suffering moving and tragic, the second that the information about these casualties is so plentiful. And the third is that while I might have expected that people in Britain and the US would accept the deaths of large numbers of Iraqis, I am greatly surprised that public opinion in these countries has so easily come to terms with the loss of so many soldiers in Bush's war. Aren't these the people we are always being urged to support and feel for? How can we be tolerating this?

On August 26th, three US Marines walked up to Carlos Arredondo's door in the town of Hollywood in Florida to tell him that his son, Lance Corporal Alexander Arredondo (aged 20), had been killed in the assault on Najaf. Carlos flew into a rage, ran into the Marines' van parked outside his house and set fire to it, burning himself severely in the process - "He snapped" as local police put it. The Marines pulled Carlos, suffering 50% burns and rushed him to hospital - the van was gutted.
Ooops - is this upsetting the Republican Convention? No, the howls of rage and grief from devastated families is drowned out by cries of "flip-flop!", "four more years!", bashing Dan Rather and talk of the great successes Iraq is enjoying. This cacophany is occasionally punctured by those like Sue Niederer who interrupted a speech by Laura Bush to inform the audience that her son, Lieutenant Seth Dvorin had been killed in Iraq and need not have been - she wore a T-Shirt with the words "George Bush killed my son".
Iraqis watch Bush's address to the UN - Iraqis watch graphic footage of casualties of the war that those in the West don't see.
Meanwhile, among Iraqis, a worse tragedy plays out among people who cannot afford war. In one episode from an increasingly squalid US war, Patrick Cockburn reports (Independent, September 19th):

"In Haifa Street last week, US helicopters fired twice into a crowd, killing 13 people, while claiming that they had come under anti-aircraft fire. But footage of the moments before the rockets struck, killing the al-Arabiyah satellite television correspondent, proved that there was no gunfire."


Amnesty International reported on the Haifa Street helicopter massacre
, urging an inquiry:

A US army spokesperson justified that attack and described the operation as "successful". The spokesperson said the US army did its best to "eliminate collateral damage"

In
one article for the Christian Science Monitor
reporting increasing US military disaffection with the war among still largely Republican-supporting troops, guilty acknowledgement of the declining moral character of the war is evident - "I don't enjoy killing women and children, it's not my thing" says one Marine stationed in Ramadi.

About 400 civilians were killed
in the highly pointless siege of Moqtada al-Sadr's militia in Najaf
, a dispute ended by the Ayatollah Sistani's ceasefire (swiftly violated by the Allawi government and US forces) - a powerful demonstration of the reality that the US army is a major destabilising factor in Iraq, while Iraqis themselves are in the best position to make peace and arrange for the creation of democratic institutions - a course of action the majority of Iraqis demand, and demand to be allowed to do themselves.
Total Iraqi deaths remain unknown, in such low regard are their lives held, and any figure must be speculative.
Iraq Body Count's
estimate of 13-15,000 civilians dead is certainly a serious underestimate, and it is more likely that tens of thousands have been killed in the course of the occupation alone.

And the figure is set to get quite a bit bigger -
the US is planning another major offensive
, bloodier than that of April, in order to recapture central Iraq and Baghdad's wretchedly poor predominantly Shia slums, while the bombing of these areas continues in the meantime, as Milan Rai writes:


By now a familiar pattern has developed, exemplified by an attack on 9 September.
'[C]iting what it said was compelling evidence from multiple sources' the US military announced that it had conducted "a precision strike on a confirmed Abu Musab al-Zarqawi operating location in northern Fallujah' in the early hours of the morning (NYT, 10 September). However 'as the day progressed, news accounts and photographs of dead women and children along with credible witness reports, told a different story. At least eight people died, including four children and two women, a local doctor told the Associated Press and another 16 people, including 8 children were wounded. In the rubble of a demolished house, workers found only one survivor, a 10-month-old infant, said Ahmad Jabir, a member of the rescue team.'

According to the LA Times, 'the air campaign [against Fallujah is] expected to continue and possibly intensify' (11 September). 'Recent airstrikes have heightened tension in the city, feeding fears that an all-out American attack may be imminent. That has prompted hundreds of families to flee their homes, transforming neighbourhoods facing US positions into ghost towns' (AP, 10 September).


The continuation of this war is set only to be a tragedy. It is imperative that no-one "stays the course" to nowhere. We need to take our anger into the streets...
_____________________________________________________________________________________

And after all that, I will wrap it up there. Response, queries, corrections, comments, criticism and much else can all be sent to respond_alexblog@yahoo.co.uk

Thanks for reading and caring,

Alex Higgins