Monday, August 01, 2005
You Gotta Speak Out Against the Madness
June 19th, 2005 - Welcome to Bring on the Revolution, a blog about injustices around the world from the point of view of those at the receiving end and those trying to fight back. Please take a look around. The world of political blogs is, readers will discover, very heavily populated by the right. This, however, is an unashamedly, indeed aggressively, bleeding-heart blog that takes issue with the scarcely believable and wanton cruelty inflicted on so many of our species and the prejudices that keep things that way.

Finally, finally, this stuff is finished. Months of delays - computers exploding, sisters getting married, demonstrations to organise, stuff to do, increasing length of articles, rampant misuse of plurals... excuses, excuses. Apologies if these pieces have a certain 'old news' feeling to them, hope they are nonetheless of some interest. In this post:

What if you knew her and found her dead on the ground? - Why did police in Boston kill Victoria Snelgrove?
Losing Ticket - resorting to mendacity in the pointless struggle to enforce immigration controls from the Czech Republic to the Caucasus. Part of this has been kindly contributed by a reader,

Patricia Zimmerman

.
800 years of crime - two Belfast stories, the Provisional IRA disgraces itself over the murder of Robert McCartney, while the British government dodges to avoid justice for Pat Finucane.
Out of Africa - Unilateral air strikes and soldiers coming home in body-bags from a dubious great power manouevre in an oil-rich part of the world. So what is France doing in the Ivory Coast?
International Rescue - what did we learn about the world after the devastation of the Boxing Day tsunami? The best and the worst of the world reveals itself.
White Lines and White Lies - the story of how journalist Gary Webb exposed official US criminality in Central America, and wound up killing himself

Also below this post is something I wrote in response to the massacres in the Ferghana valley in Uzbekistan. A group of us in London have launched a new campaign for freedom in Uzbekistan - more on that soon. There are cartoons, campaigns and multiple links. Also, please go to Nick Allott's blog for some execllent coverage of events in East Asia (and leave a comment!)

In the northern hemisphere, the summer is upon on us and it looks set to be hot and extremely violent. But it could also be a summer for some decent activism - a salute to all those ready to defy the G8 members in Scotland this July and the many more who are getting involved in the anti-poverty campaign. Join protestors around the world, wherever you are, to make this a summer to remember for good reasons.
MAKE POVERTY HISTORY!
Remember - just because celebrities are endorsing it, doesn't mean that it's a bad idea...
___________________________________________________________________________



Summer of Love - the Iraq War and Darfur





Photo Credit: By Chris Hondros -- Getty Images Photo

US losses in Iraq soar, Arlington Cemetary expands - 52 in April, 82 in May, 67 in June so far (an average of 17 a week for eleven weeks straight)


Nothing new - insists the US and British governments, and those who should know better such as the editors of the Washington Post, of the notorious Downing Street memos recently revealed to the public. Indeed they don't contain a lot that it is new, just further evidence of official deceit.

Read Milan Rai's analysis here and check out this new site, After Downing Street.Org.




A message from Britain's Conservative Party, which lost the May 2005 election, adjusted by activists for greater honesty

The Salvador Option becomes a reality (remember that story?)

"A shallow mass grave was discovered in an industrial neighbourhood called Kasra-Wa-Atash, not far from where they were arrested, according to the lawyers. The bodies were blindfolded and revealed such torture marks as broken skulls, burning, beatings, and right eyeballs removed."

That's not the blood-stained mujahideen on this occasion - it's the new Iraqi commandoes. Us.

"That is when I saw that a little boy (about 3 years old) had been shot in the head and had to interpret for his uncle who was holding him with pieces of skull and brain on his immaculate white shirt splattered with surreal bright red) it actually gets easier to bear... It will never go away (or I have been told) but I can go on with my life now. For about 8 months it was always in the forefront of my mind (constant daydreams about the incident).

'It makes me sick still to really think about it, but it is like a memory that I always go back to and wonder around in... You know how you might have something you remember and as time goes by it gets fuzzy? Not this, it stays crystal (I mean fuc**ng crystal) clear the way the corn field next to the truck was, how the shirt looked, the boy's head, the drink of water I took after....etc... I wish that I never had to see that but even more I wish that the family who's son had been killed by U.S. soldiers was still alive.

'What is worse is that things like that still happen and the media doesn't even care enough to report it... just collateral damage. The army mental health clinic has told me that to help deal with this memory I should buy some stress tapes and also count to 10 when the memory hits..."

US Sergeant from Georgia, on his second tour of Iraq

Bush poll ratings lowest ever - pity people are figuring it out about eight months late.

_____________________________________________________________________________________

Darfur - Help is not on the way

"I don't think that we have done nothing. I think we have done what we can do." (Tony Blair)

Victim of the Hamada massacre in January this year. Read the article by Nicholas Kristoff for the New York Times.

UN Convention on Genocide

Article 1

The Contracting Parties confirm that genocide, whether committed in time of peace or in time of war, is a crime under international law which they undertake to prevent and to punish.

"...if Rwanda happened again today, we would have a moral duty to act there also". - Tony Blair, trying to win Labour Party support for US wars elsewhere in 2001.

Er... never mind. Well over a year since this blog started following events in Darfur, wrongly anticipating an international reaction of some kind, it looks like the decision of the UN permanent Security Council members has been made - Darfur can expect next to nothing - not even the kinds of diplomatic sanctions that should be axiomatic in cases of genocide (and we need no longer trouble ourselves over whether the word is appropriate or not).

While Russia, France and China continue to provide support for the Sudanese regime, Britain has washed its hands of the matter (a policy condemned by the House of Common Intenrational Development Select Committee - check here for their report) while the Bush administration in the midst of its famous crusade for freedom has formed a "close intelligence relationship" with the Sudanese dictatorship.

CIA creates alliance with Sudan

A possible death toll of over 400,000
-Darfur's real death toll (April 24, 2005)

On his recent visit to Sudan, Deputy Secretary of State Robert B. Zoellick... said that the State Department's estimate of deaths in Darfur was 60,000 to 160,000, a range that dramatically understates the true scale of the killing.

According to the WHO's misquoted survey, which is based on interviews with nearly 17,000 internally displaced people, the mortality rate from malnutrition and disease comes to 2.1 per 10,000 people per day. Again, extrapolating for all displaced people, Mr. Hagan estimates that 250,000 people have died from malnutrition and disease since the conflict began, so that the total of violent and nonviolent deaths comes to 390,000. Mr. Hagan [John Hagan of Northwestern University] suggests that this number is conservative, because it assumes that only displaced people are at risk. Many people who remain in their vil- lages have been exposed to violence and food shortages.

2,500,000 displaced
390,000 dead
3,200 villages destroyed
5 UNSC Resolutions

This is not going to stop by itself - get active this summer. Become informed, become involved.

____________________________________________________________________________________

Stories from around the world:

New Jersey legislators attempt to divest money from Sudan as punishment for genocide
The Pentagon caught lying over vandalism of the Qu'ran in interrogations
General Strike in Zimbabwe against repression
Israeli government proposes blocking compensation for Palestinians injured by security forces
The story of the video of Srebrenica executions that shocked Bosnia and Serbia
Iranian election fraud again
UN says 80 million Africans may die from AIDS by 2025
Chinese diplomat defects in Australia, calls on Australians to accept refugees from China
Last round of elections in Lebanon, with Syria gone
Struggle against slavery in Niger
Afghan women still under attack
Bloodshed continues in Haiti
Racist attack on Polish immigrants in Northern Ireland




A big Free Burma Happy Birthday (June 19th) to the elected leader of Burma, Aung San Suu Kyi, still under house arrest - the revolution will not be stopped forever!



French oil corporation Total Oil supports dictatorship in Burma. Take action here.
__________________________________________________________________________

What if you knew her and found her dead on the ground?

Last October, just days before the US elections, Boston's baseball team, the Red Sox played the New York Yankees on its way to victory in the World Series. The Yankees are, says one BBC commentator (what do I know?), the Manchester United of US baseball - wealthy, successful, and widely despised/supported. The Red Sox had not won the World Series in decades - and when they defeated the Yankees and took a step closer to the great prize, it brought jubilation to much of Boston and a totally illusory boost to the campaign of Democratic hopeful, Massachusetts Senator John Kerry. The wildly optimistic reading being that if the Red Sox can beat the Yankees then maybe Kerry could beat George Bush after all. Dubious claims about links between baseball and election results have been doing the rounds on the Internet ever since. But more serious attention might be given to some of the politics surrounding sport itself.

On the night of their historic sporting victory, Red Sox fans celebrated noisily in the streets and Boston police shot a girl in the face and killed her.

Victoria Snelgrove, aged 21, from East Bridgewater, was not a typical victim of police brutality. Eight days from her 22nd birthday, she was a journalism major at Boston's Emerson College (that's $25,000 a term, please) and was auditioning for an anchor position at the College's television station in line with her career ambitions. A big fan of the Red Sox, she went to watch them play and celebrate afterwards. During the overnight festivities she was hit in the eye by a pepper spray projectile after police opened fire on a crowd and died a few hours later, 12:50pm October 21st, at Brigham and Women's hospital.
Victoria Snelgrove
(Associated Press photo)

As ever in these cases, the police were quick to get across their version of events. Usually the preferred method is to cast suspicion on the victim - hint that the deceased was aggressive, violent, on drugs etc. In this case, it was simply not possible. Boston Police Commissioner Kathleen O'Toole told a press conference: "The Boston Police Department is devastated by this tragedy. This terrible event should never have happened. The Boston Police Department accepts full responsibility for the death of Victoria Snelgrove." O'Toole expressed sympathy for Victoria's family, and announced that the officers responsible were themselves "devastated" and had been placed on leave. A thorough internal investigation was promised.

However, O'Toole quickly changed the subject with sufficient haste to suggest that the acceptance of full responsibility was not quite so full as all that. O'Toole rounded on the "punks" who "turned our city's victory into an opportunity for violence, mindless destruction and pointless mayhem. These people own a portion of the responsibility for [Victoria's] death. We will hold them responsible for those actions to the fullest extent of the law".

It was a highly misleading statement giving the clear implication that a bystander had been tragically killed as police struggled to contain the malice of drunken good-for-nothing sorts - "It appears from evidence we have reviewed thus far that Tori was killed when she was hit in the eye by a projectile fired as officers tried to control mobs outside the ballpark". The Boston Globe added:

"Police Commissioner Kathleen M. O'Toole defended the department's crowd-control measures, calling them far more comprehensive and superior to those used after the Super Bowl. She said officers had, despite the fatal shooting, demonstrated considerable restraint and were forced to use the weapons because of a small group of thugs who endangered thousands of revelers and police by lighting fires, wrecking cars and other property, and throwing projectiles. The violence left 16 people injured."

Not the first time, the police account has been contradicted by the evidence.

There was indeed criminal behaviour by Red Sox fans in Boston that night, as an Associated Press report put it: "Early Thursday morning, several small fires were set, fireworks shot into the sky, a trash can was thrown at a fast-food restaurant sign and numerous fights broke out. Boston police reported eight arrests, mostly for disorderly conduct, though one arrest was for assault and battery on a police officer." "At least eight people were arrested," CNN reported (or in other words, eight). But a total of 80,000 had been on the streets that night. A police officer was the only one to suffer serious injury that night, when his nose was broken by a bottle thrown at him.

Mayor Thomas Menino echoed his Police Commissioner's sentiments. He placed the blame on bars for serving too much alcohol, the TV news for broadcasting images of violent behaviour and Boston's universities for being filled with "knuckleheads." That was the view of the authorities - punks and knuckleheads had come together and somehow caused Victoria Snelgrove to be shot in the face:

"As we discuss all these things we're putting in place, where's the personal responsibility of these students?" he [the Mayor] said. "Don't they have any sense of their responsibility? Why? It's very frustrating."

Isn't it frustrating when people won't take responsibility for anything?

There was no anti-social behaviour from Red Sox fans in the vicinity of Victoria Snelgrove. As the BBC put it:

"Video footage from the scene showed large crowds but no sign of rioting. Ms Snelgrove, a journalism student, was lying on the ground with blood running down her face."

CNN said much the same:

"However, video from the scene where Snelgrove was struck showed the crowd in a joyous mood, slapping high fives and chanting celebratory Red Sox slogans. There were no signs of near-riotous conditions in that immediate vicinity although the area was crowded, and dozens of people near her stopped celebrating when they realized the severity of her injury and they tried to get help.

'Snelgrove was sprawled out on the ground, with blood running down her face."

Which might make you wonder if the footage broadcast by two of the world's largest televsion broadcasters figured among "the evidence we have reviewed thus far" that O'Toole told us about. While police struggled with crowd antics nearby, the evidence suggests that there was no reason to shoot in Victoria's direction. Eyewitnesses have added to the picture:

Jim Sullivan, a 26-year-old graduate student from Boston University, said officers began firing at the people on the supports.

"I understand the police felt threatened, but it struck me that they responded with too much force than the situation merited," said Sullivan. "There wasn't anything down there that was going to get destroyed. They acted completely inappropriately."

Victoria was killed by an FN303, a compressed-air gun that fires pellets which spray pepper gas on impact, causing severe burning pain, wheezing and gagging. The weapon had not been used by police in Boston before. Former Commissioner Robert O'Toole and Superintendant Bob Dunford had been looking for new weaponry in anticiaption of riots and demonstrations outside the Democratic National Convention in the summer. Robert O'Toole and Dunford travelled to Northern Ireland to do research on police weaponry and concluded that the British Army's and Police Service of Northern Ireland's weapon of choice, the plastic bullet, was too dangerous (it certainly is), opting for the FN303 instead. As the riots in the summer outside the DNC failed to materialise, there was no need for the new weapons. The Red Sox game, however, provided an opportunity to try them out.

Despite the endless quest, there remains no such thing as a non-lethal weapon, and projectiles fired from a gun are extremely dangerous, especially if fired at someone's head or chest. Standard training in police departments across the world usually stipulate that police should fire such weapons below waist height or they should bounce them off buildings or the ground. Boston police are now looking at using less powerful guns from which to fire pepper spray canisters, though that doesn't address the issue of whether the weapon that killed Victoria was fired in violation of official procedure, or in a situation where it was uncalled for. However, a police officer speaking to the Boston Globe indicated that the FN303 canisters were deliberately fired at chest-height - and had been trained to do so:

"A Boston police officer who is familiar with tactics and nonlethal weapons and who spoke on condition he not be identified, said officers are trained to fire the so-called pepper balls at people's chests so a cloud of pepper powder rise into targets' faces. He said the pepper balls are sometimes inaccurate, curving in flight."

Such practice gave rise to further instances of excessive police force:

"We were just cheering and enjoying ourselves and having a wonderful time," said Katie Gately, 29, a teacher at Harvard/Kent Elementary School in Charlestown. The next thing they knew, her brother said, a pepper pellet tore into his cheek.

"I just looked and held my face, and there was blood all over my hands," he said. "I had it . . . all over my face and all over my shirt."

The guns continued to snap and pop, and Gately said he descended from near the top of the Monster [the Green Monster - the huge left-field at Fenway Park Stadium] and approached an officer for help, his hands covered in blood. "Before I knew it, the officer turned around and opened fire on me," he said. Gately pulled up his shirt yesterday to show several purple-and-yellowish welts.

Police offered no explanation yesterday for why they had not disclosed that two other people besides Snelgrove had been hit in the face last week, but said an investigation of the shootings is ongoing.



Paul Gately's injuries from FN303 canisters - photo from the Boston Globe staff, taken by George Rizer

In reports and statements on the policing of the Red Sox game's aftermath, references to the Super Bowl figure heavily. The police were stung by criticism of their performance in the face of rioting that resulted in a death after the game. Come the World Series, the pressure on the police was to show that they could control sports fans. As Kathleen O'Toole said: "We need to send a very strong message to the potential troublemakers that we're there in force."

As I wrote in a previous article on the policing that resulted in the Hillsborough disaster in England in 1989, it is a fact that violent sports fans can present a serious problem for police and communities they wreak havoc in, but when the police treat sports fans as a whole as an enemy, putting crowd control ahead of crowd safety, there is a potential for another kind of tragedy.

And as usual in the case of a police killing, the police in this case resorted to dishonesty and blocking accountability for their conduct. An independent investigation led by US attorney Donald Stern and Janice W. Howe is underway.


The Boston Herald's front page. Many of Victoria's friends were greatly upset by this front page splash and the Herald's executives apologised. (I hope reproducing a small version of it here will not offend anyone, but I prefer not to edit out unpleasant images).

One final remark comes from an article for the Christian Science Monitor:

"I think there really needs to be a national reassessment of this paramilitary force on citizens," says Paul Wertheimer of Crowd Management Strategies in Chicago. "This is not Fallujah."

Which is true enough - because no one has any idea how many people like Victoria Snelgrove were killed in Fallujah.
_____________________________________________________________________________________

Losing Ticket

"It's not racist to want controls on immigration" an election poster ad from the British Conservative Party told us in weeks gone by, thoughfully. Below the Tory tag line read: "Are you thinking what we're thinking?"

Hmmm... thinking what they're thinking? Well, if the Conservative front bench are thinking they should set fire to themselves in protest at their own policies, then maybe we are thinking the same thing. But probably not.


Some people tell the Tories what they're thinking.See this site.
Presumably a system of immigration controls without racism is a theoretical possibility. It's never been done, but perhaps it's not impossible. But it's better not to bother.

Immigration controls were first introduced in Britain in 1905 to keep Jewish refugees of pogroms in Eastern Europe from entering the country, and it's been downhill since. Take this, for instance. In December last year, the British government was found guilty by the Law Lords of racist discrimination against Roma Gypsies trying to enter Britain from the Czech Republic.

The Roma, among the principal victims of the Nazi genocide of 1941-45, remain subject to severe discrimination and persecution even in EU member states such as the Czech Republic - as the Law Lords themselves found: "Lady Hale, sitting with Lords Bingham, Steyn, Hope and Carswell, said many Roma had good reason to want to leave the Czech Republic because of persecution."

In response to this, the British government established an office in Prague in 2001 whose purpose was to keep the Roma out of Britain - even Roma businessmen seeking to make a brief visit. And the means for figuring out whether someone was Roma or not was a straightforward glance at their skin colour - as a Czech television documentary found when two journalists, one Roma and one not, tested this and applied for a travel visa with identical papers. Only the Roma applicant was turned down. The civil libertarian group Liberty, arguing correctly that the case revealed "racism at the heart of the government's asylum policy", found that:

"In 2001 the Czech Republic agreed that the UK could station immigration officers at Prague Airport to screen all passengers travelling to the UK. The aim was to detect people who wanted to claim asylum in the UK and prevent them from travelling. The overwhelming number of passengers who were refused permission to enter the UK under this operation were Roma, regardless of whether or not an individual Romany Czech actually intended to claim asylum in the UK. Statistics showed that Roma were 400 times more likely to be refused entry to the UK than non-Roma." (Emphasis added)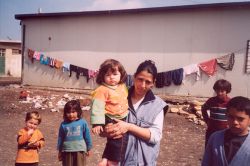 These people are not out to get you

Amnesty International's Jan Shaw described the government's actions as "bleakly ironic" - but there was nothing ironic about it. The good news is that since the Czech Republic has become a member of the European Union, its citizens can now choose to travel within the EU's borders and try and find some work for a while or maybe make a new start in life without anyone checking to see how white they are first.

(See European Roma Rights Centre's website)

Another extraordinary episode from the world of border controls has been brought to my attention by Patricia Zimmerman in California. At her blog And Justice For All, she writes about the ironically titled Diversity Visa Lottery of the US State Department, in which citizens of countries with low rates of immigration to the United States are offered the chance of a Green Card, allowing them to seek work or educational opportunities in the USA. Applicants who meet the requirements theoretically have a chance to win a Green Card, highly valued in much of the world.

The fundamental law of organised gambling is that the House always wins, and the rules of the game must be rigged in its favour. And sure enough, this is a lottery which the State Department wins, and the applicants lose, not so much by rigging the game as just making up the rules as they go along to guarantee the outcome.

Patricia, focussing on the former Soviet Union, cites the case of an Armenian 21- year-old gentleman, Armen, who, on being informed that he had won the Green Card lottery, headed for the US embassy in Moscow in 2001:

'When the interview began, the consular officer asked Armen to raise his right hand and swear to tell the truth. After Armen completed the vow, the consular officer asked him for a $435 check to cover the cost of the visa application and processing fees. He then instructed Armen to sign his name several times on a blank piece of paper. Briefly comparing these signature samples with those on Armen's lottery application and passport, the consular officer yelled unexpectedly, in apparent exasperation, "All your signatures are different!"

'These words constituted the full text of the embassy's rejection of Armen's visa application. Then abruptly stamping a rejection into his passport, the consular officer returned Armen's documents, with the exception of his high school diploma, original lottery application and check. He would neither speak to nor look at him again.'

Armen was left short of one visa, about $1000 total expenses and heavily implied to be a fraud of some kind.

"Despite this experience, Armen still could not believe that an American consular officer would intentionally deceive him. He remained in Moscow for several weeks, returning to the embassy again and again, in the mistaken belief that he would find someone willing to correct the consular officer's error. Not one member of the embassy staff would even look at him (a common embassy maneuver, I learned later)."

$1000 is about twice the average national income in Armenia. In 2003, a US attorney examined Armen's offending signature and found that it matched his others - but the embassy, on reviewing its actions, found itself to be innocent and also found that they had a new policy of ignoring independent testimony.

"Armen's family had forfeited this sum so he could fulfill his dream of moving to America. When Armen returned home to the bleak and desperate conditions of present-day Armenia he was burdened with depression, grief and anxiety. In his native city, chronic shortages of food had caused widespread malnutrition. Electricity, gas and hot water were scarce and even cold water was being rationed. Without fuel for heating his home, the bathroom water froze. He endured the frigid winter with little comfort."

Armen's experience is not unusual. In writing to me, Patricia gave accounts from Russians:

"One woman mentioned that she met five other families at the embassy who were applying for lottery visas. Like her, all but one of them were refused on the basis of signature. A rejected Moscow man mentioned that there were two others in line before him who, were also refused in this same way."

White and Assoicates, a US law firm took up the matter in 2001 on behalf of aggrieved Diversity Lottery winners, but in October 2003 the courts found that they had no right to review decisions made by consular officials in US embassies.

The policy, which had begun to hurt US-Russian business relations and reached a low point after refusing a ten-year-old girl the chance to go to the US to receive urgent medical treatment, was subject to scathing review by the Alaska Rotary Club:

"The one advantage of a system where Consulate is given wide latitude to make on-the-ground decisions should be its flexibility where humanitarian cases or interests of diplomatic relations might be at issue. Unfortunately, quite the contrary is true: Consulate has managed to deny or personally affront the majority of local government officials (including every governor in the Russian Far East) with their pedantic rigidity in issuing visas. Legislators in one region were exasperated to learn that Consulate had denied a visa to a ten-year-old girl they had voted to send to the US for bone-marrow surgery as a humanitarian act, and later that the son of their deputy speaker was also denied entry for urgently-needed medical treatment… In Khabarovsk, the governor once compiled his own report showing a 75% refusal rate and berating Consular officials in meetings for poisoning the business environment... An initiative of the US Dept. of Commerce to improve business relations between RFE and US West Coast was compromised when twenty-three Russian invitees were denied visas to come to the conference." (Emphasis added)

As the Diversity Visa Lottery gained the reputation of a scam, the signature rules were changed so that lottery applicants are no longer required to send written signatures to the embassy. But what was behind this pointless and moronic conduct? One possibility is that the Green Card lottery, rather than being to encourage diversity and opportunity was intended to do the opposite - to block immigration by luring those who showed an interest in travelling to the United States to give their details to consular officials before being permanently barred from gaining a visa on the basis of fabricated charges of fraud. It's pretty cynical stuff. It also suggests a degree of cunning that is actually unusual for government bureaucracy.

Cruelty, dishonesty and general delinquency on the other hand, is pretty routine.
_____________________________________________________________________________________

Out of Africa

In February, South African president Thabo Mbeki, called in to to design a political settlement in the Ivory Coast (Cote D'Ivoire), was given some advice by French President Jacques Chirac: "West Africa is West Africa. It has its own characteristics. You have to know it well. And I would really like President Mbeki - whose process, I repeat, we do support - to immerse himself in West Africa so as to understand the mentality and the soul of West Africa, because in times of crisis, you have to really know people's mentalities and what is in people's souls."

These words prompted some annoyance among Mbeki's advisers that the French president was saying that their man didn't know anything about West Africa, and they rebuked him.

But how has Chirac himself been grappling with the mentality and soul of West Africa? The answer - even with the benefit of all that special insight into mentalities and souls - is not so well.

With a ceasfire between the Ivorian government breaking down, the Ivorian airforce began to bomb rebel-held territory on November 4th, 2004. On November 6th, they bombed the rebel town of Bouake, hitting territory held by the French army, killing nine French soldiers and wounding a further 23.


One of the weirder prejudices of US chauvinists is that Europeans, particularly the French, are terribly reticent about the use of military force, leaving all the real men's work in policing the planet to the bolder Americans. In reality, the French government is rarely slow on the trigger when it comes to defending its interests - this is after all, a state that resorted to military action against Greenpeace. The response to the killing of its troops came within 24 hours, as French jets acting on the French president's orders, attacked the Ivorian air base at the capital Yamoussoukro, and wiped out the small Ivorian air force in its entirety.

The bloody fracas between the country's former colonists and formerly colonised continued with fire-fights between French and Ivorian soldiers in Yamossoukro, with two of the latter injured. But the brunt of the clash was to be felt by softer targets.

The destruction of the Ivorian air force prompted massive protests at Abidjan and Yamoussokro, to which French forces responded by opening fire and killing an unknown number of people. Ivorian President Laurent Gbagbo claimed that French troops had killed 60 Ivorian civilians. The French government later conceded to have killed at least 20, with all the usual protests of self-defence and warning shots etc: "There were phases of clashes that were extremely difficult and during which we maintain that our soldiers used force in a very moderate, very restrained way" said Jean-Francois Bureau of the Ministry of Defence in Paris.


Ivorians calling on Bush to intervene in their country - a clear indication that something has gone wrong. Image hosted on deeply hypocritical US website.


Paris' conduct on the Ivory Coast quickly recieved an endorsement from the UN Security Council, upholding the unwritten principle that its five permanent members are permitted to do whatever they like except when they disagree with each other, which happens less often than you might suppose. The UNSC welcomed French military action in helping to uphold a ceasefire between the Cote D'Ivoire's government and the rebels and there ended any further scrutiny of the French army's conduct. Meanwhile, relations between Paris and the Ivorian government reached a new low, French citizens left the country in their thousands as their homes and businesses came under attack from angry rioters and new French troops were sent to assist in the evacuation of their fellow nationals.




So what is France doing in the Cote D'Ivoire in any case? Since 2002, France has had 4,000 troops in its old colony buttressing a UN force that is trying to prevent the country descending further into civil war, but under independent command. The French army plays a role in preventing all-out hostilities between the government and the rebels in the north, but as ever, the Great Powers have bottom-line motivations, and the contradictions can be sufficient to cause disaster. It is the specific interests of the French government that underlines its decison-making, as one analysis by Henri Asiter for BBC Online hints:

"But for the French government, pulling out is not a viable option as long as 15,000 French people remain in the country, at the mercy of angry Patriotes. French companies also remain deeply involved in the economy of what remains a regional giant and major cocoa producer. Furthermore, withdrawal would be diplomatically awkward for France."

Actually, pulling out is a possible option - in February, Chirac suggested he might do just that, depending on the feeling of other African governments. But the essential issues are the security of French economic interests in the country and the French government's military reputation and freedom to act as it sees fit in Africa.

France's record in Africa is not good, if such an understatement is permissable. From the horror of its suppression of rebellion in Madagascar after the Second World War and the infamous Algerian War up to heavy complicity in the Rwandan genocide of 1994, France has conducted itself as a major rogue state throughout the continent. Since 1964, French forces have intervened more than 30 times in African states, usually at the behest of its various clients in the Francophone former colonies.

In the mid-1990s, French policy in Africa underwent a major crisis. In 1994, French forces launched Operation Turquoise in Rwanda, in an intervention aimed at preserving the genocidal government - but its forces were knocked back by the Tutsi rebels, who went on to defeat Paris' Hutu Power allies. Meanwhile, one of the France's other major allies, the Congolese dictator Sese Seke Mobuto (one of the worst dictators in Africa) began to topple. Even after Washington finally abandoned its former friend, Mobuto, the French government insisted he was "the solution" to the Congo's problems. Its position weakened and disgraced, Chirac declared an end to unilateral French interventions in Africa, and began to scale back French garrisons from 7,000 to 5,500 troops. Chirac bitterly denounced his US and British rivals jockeying for influence where France faltered - "Anglo-Saxons dream of pushing France out of its position in Africa without paying a price." (If this was the 19th century, Blair and Chirac would probably be fighting little wars against each other over their possessions once in a while.)

But as its role in the Ivory Coast has made clear, the French commitment to unilateral action in Africa never changed. In 1993 the French Army created 44,500 strong La Force d'Action Rapide for just such a purpose. Despite scaling back forces based permanantly in Africa, Chirac made it clear that "The French military potential will remain intact." When France sent troops into Congo-Brazzaville in 1997 to resuce its own citizens but taking no action to rescue the country's government, some commentators cited this an example of French unwillingness to be involved in such disputes anymore. Others pointed out more plausibly that the French government chose not to pick sides because to do so would have obliged it to support Congo-Brazzaville's elected government when Paris actually tilted towards the opposition.

The French government dispatched troops to the Ivory Coast in 2002 when an attempted military coup sparked a civil war. French troops took on the rebels (who have also killed French troops) and prevented them from taking over the whole country. Since then, French forces have acted as a buffer between the two sides, largely frustrating the Ivorian government's desire to crush the rebels completely.

It is possible to argue about the merits of the French military role at present, and certainly no one wants the Cote D'Ivoire to descend into the kind of catastrophic and pointless internal slaughter that has slashed many of its West African neighbours to bloody pieces.

But for those who long for a decent international order of any kind, it is unacceptable that imperialist powers like France with such dreadful historical records should be permitted to independently determine the politics of another country. It is intolerable that the future of Iraq should be a matter of the whims of the Bush administration or that the ultimate arbiter of Northern Irish politics should be the British government - and likewise French troops should be in Africa, if at all, only as part of an international peace-keeping force, not as the mercenary arm of French economic and geo-strategy interests. And the conduct of its forces should be subject to some actual scrutiny.

It's not as though the other players in the Ivorian war are humanitarians - but is the French army likely to bring about a desirable peace?

More information from Le Monde Diplomatique
_____________________________________________________________________________________

International Rescue

Seven o'clock in the evening in Hawaii. Stuart Weinstein watched the TV, "kind of feeling like a schmuck", we learn in a Newsweek staff report from January.

At 3:14 that afternoon at the Pacific Tsunami Warning Centre he had sent out a response to readings on the seismometer indicationg an earthquake of 8.0 on the Richter scale near the Cocos Islands just off the coast of Sumatra in the Indian Ocean, stating:

THIS EARTHQUAKE IS LOCATED OUTSIDE THE PACIFIC. NO DESTRUCTIVE TSUNAMI THREAT EXISTS BASED ON HISTORICAL EARTHQUAKE AND TSUNAMI DATA.

Within half an hour, Weinstein realised that this initial assessment was badly off. The earthquake turned out to have been much more powerful - five times as large, 8.5 on the Richter scale (it was bigger even than that, and the figure was later upgraded to 9.0). A new message was released:

THERE IS A POSSIBILITY OF A TSUNAMI NEAR THE EPICENTRE

By the evening, reports were coming in of deaths, an incident at a time, from around the Indian Ocean. Weinstein, "surrounded by technology... had been reduced to typing in "tsunami" on Google to keep track of the death tolls on the wires. The numbers started small - one dead in Phuket, 150 in Sri Lanka - but it was dawning on Weinstein that a disaster was happening and there was nothing much he could do about it."

Weinstein may have felt like a schmuck but it wasn't his fault. He was on the frontline of the entire planet's only international warning system for tsunami. Even by the time the centre in Hawaii had contacted US embassies as far as Madagascar and Mauritius to warn them, they were still too late. Elsewhere around the world, seismologists who had detected the earthqauke and had realised what has happening, were reduced to phoning around trying to find someone they could give a warning to.

Some commentators shrugged at discussion of warning systems as an indication of humanity's deep-held desire to find someone they can blame for senseless tragedy. But this is a very callous and weak response. The US Geological Survey stated, correctly, that, "Most of those people could have been saved if they had had a tsunami warning system in place or tide gauges". And in fact, just such a system had been proposed a year before the tsunami by Indian Ocean basin governments but rejected as a low priority - after all, tsunami are not particularly common in the Indian Ocean.

What the tsunami demonstrated, along with the many major natural disasters of 2004 from the earthquake in Bam in Iran to the hurricane that ravaged the Caribbean, is that a large section of the world's population - in particular, most of the world's poor - are left defenceless. There is no excuse for this. The technology exists, as do the resources and and we know that natural disasters are bound to occur from time to time. Richer countries usually have contingency plans and defence systems in place for such episodes. Only among the world's poor do 300,000 get killed from a single disaster.

But if the tsunami told us this, it also told that us that the human species is not completely heartless and self-seeking. Some readers have previously suggested that this blog tends to focus too much on very grim and bleak realities so it will do well to look for a moment at the massive outpouring of generosity and solidarity in the West for the Third World in the aftermath of the tsunami that caught the rich world's governments by surprise. George W. Bush and Tony Blair continued to take a holiday and found themselves surprised that the public expected to take the situation more seriously. Government donations had to constantly rise, as the public's own giving kept on outstripping them. Eventually the British government had to say it would match whatever the public's total donation was.

As of February 7th, the UN reported that it had received $360 million out of $977 million pledged by the world's governments. On past performance, that's better than usual - over a third of promises kept so far. By contrast, Iran has received $17.5 million out of $1.1 billion pledged after the Bam earthquake.

Looking at a few select countries one at a time, this is a brief look at the aftermath of the Boxing Day Tsunami:

ACEH

Overwhelmingly, the dead came from the Indonesian possession of Aceh in Sumatra - according to New Internationalist's report, 232,732 Acehnese are either dead or presumed to be. This turned out to be a potential problem for the Indonesian government which had pursued its war of aggression against the province safe in the knowledge that virtually no one else in the world had heard of it. Now, not only is the place known to people all over the world, but Aceh is crawling with foreign observers on humanitarian missions and even foreign troops.

The Acehnese guerrilla army, fighting for independence since 1976, called a ceasefire the day after the tsunami hit. Such a ceasefire was, probably, as much a response to necessity as an exploitation of a new chance for a political process. Many GAM units, hiding in mountainous and forested areas from the Indonesia army (the TNI) found that the communities they left behind were gone, along with everyone in them. In parts of the country, the GAM had become an army without a people.
Indonesia's president, Susilo Bambang Yudhoyono, decided to reopen peace talks, but it is clear that even in the face of such a massive tragedy, Jakarta was still determined to make war. As US Marines from the USS Lincoln prepared to land in large numbers to facilitate the relief operation, Jakarta began to fear that the international presence in Aceh might become permanent. On January 12th, Vice President Jusuf Kalla made a public announcement that international troops were to be gone by March 26th:

"Three months are enough. The sooner, the better. In the future, there will be no need for the foreign military presence."

The Bush administration responded meekly before friendly tyranny, scaling back its planned troop operations and announcing that it had no problem with its Indonesian ally's stance. Meanwhile the Indonesian government announced that all humanitarian workers must inform the authorities of precisely what they were doing. The truce itself has been uneasy, and occasionally violated with force, as when Indonesian troops killed seven rebels in February. The TNI constantly made accusations about the GAM's supposed threat to aid workers of the kind that tell us more about their bad faith than the rebels'.

On the other hand, some kind of progress has been made. The Indonesian government rejected the rebels' offer at talks in Helsinki to give up the demand for total independence in exchange for a referendum on Aceh's status, but it indicated that GAM were prepared to be flexible, while Jakarta showed some willingness to consider options short of independence. As reconstruction continues, so does the truce, but Indonesia's government cannot be trusted with Aceh's future and the international gaze must not turn away.

SRI LANKA

"They don't give a damn about us, because we are poor. It's the same with any government," laments Dayaratne Fernando, accurately in the NI report. He lives in Angulana, south of the capital Colombo.

75% of the Sri Lankan fishing fleet was damaged or destroyed - the sole source of income for many thousands of people. Meanwhile the government has created a buffer zone of 100-200 metres inland on coastland affected by the tsunami in which new construction is banned. This might make some sense but there is a certain selectivity - the ban does not apply to many buildings designed for tourists. In Unawatuna, police acted to prevent fishermen rebuilding their partially damaged homes 75 metres inland while 20 kilometres south a hotel that was totally destroyed is being reconstructed. For rich and poor, different laws apply, as ever, and Sri Lanka's coastline appears to be moving out of the hands of people who live along it, towards the more lucrative tourist industry. The government extends credit to hotel-owners, but for those who have little, much less is on offer. Little wonder this approach has "provoked outrage and disbelief" and is charged with "holding up the recovery of the entire island" (Independent, February 10th).

In Mirissa, a port in the southernmost tip of the country, a banner declares in English and Sinhala, "Please come another tidal wave to take away the cheats who are benefitting from the tsunami response without deserving it." This is one expression of anger of the failure of the massive aid - and there is a lot of money waiting to be used - so far to translate into assistance for those who need to rebuild their homes and communities straight away.

A BBC report from April 6th by Dumeetha Luthra ("The slow pace of Sri Lanakn recovery"), quotes Brian Smith of the Asian Development Bank:

"We're starting to see more impatience, more frustration in the districts on the part of affected families. They're expecting reconstruction to move forward, partly because they see conditions about to deteriorate, partly because of the oncoming monsoon, and certainly we agree with that. We would like to move rapidly into the reconstruction phase."

It's another episode that brings out the angst many Western tourists experienced during the tsunami's aftermath. While their visits helps the local economy in many ways, many tourists with a social conscience became keenly aware of how their money privileges them even in the face of disaster, and embarassed accordingly.

The tsunami killed around 40,000 Sri Lankans (38,195 according to the Independent special report).

INDIA

In India, it is religious chauvnism and class that have combined to block aid from getting to the poorest and most desperate. India's traditional caste system, in which some people are designated 'untouchables' (Dalits) was made illegal after independence, but persists and warps Indian society.

Dalits have been denied aid by fellow tsunami survivors of higher-status caste, thrown out of refugee camps, denied food and generally degraded at every opportunity that has arisen. Justin Huggler reported for the Independent on January 22nd:

"Dalit children were not even allowed to use the basic open latrines at relief camps, according to Janyala Srinivas, a reporter for The Indian Express. Dalits at one camp who asked for some of the food supplies intended for everyone that the fishermen were hoarding were thrown out and had to spend the rest of the night in the road."

Not that the Dalits have no role to play in the recovery - they are expected to remove dead bodies and clean up human excrement (duties higer castes shirk less they become unclean). Ashok Bharti of the National Conference of Dalit Organisations told Huggler:

"They want us to clear out their dead bodies and faeces but when it comes to accepting relief they want to ensure that we are nowhere around, simply because they cannot stomach the idea of sharing anything with us."

Thus are they punished for sins committed in past lives in the worldview of Hindu chauvinism. More enlightened Hindus, such as Mohandas Gandhi declared he would rather die than the caste system live on (which is what transpired, as it happens).

In an incident unconnected to the tsunami, a group of upper-caste landlords responded to fight between a Dalit youth with a non-Dalit by forcing the three Dalits (inlcuding a 12 year-old boy, to drink urine which they had pissed into their shoes.

Here, as elsewhere, disaster brought everyday injustice to international attention and the Indian government was compelled by the outrage generated to attempt to address discrimination against Dalits.

Estimates of India's dead include 8,800 (BBC Online), and 15,000 (New Internationalist). The BBC reports a further 1,829 dead on India's Andaman and Nicobar Islands.

BURMA
Burma was spared much of the tsunami's potential for destruction, or at least that is what its regime proudly declared, informing the international comunity that no assistance would be required.
An attempt to explain that no Burmese had died was unfortunately immediately contradicted when the Chinese regime sent the Burmese government condolences for those killed. Since then, the ruling junta has conceded that some Burmese had been killed. Suggested death tolls range between 60 and 90 and have rested at that, but leaving it at that - as most news agencies have done - may be a mistake.
Most aid agencies have pulled out of Burma in protest at its slaughterhouse military regime and there are no independent observers on the ground. The inhabitants of the Burmese coast are extremely poor, living in the kinds of homes that could withstand very little of the Indian Ocean.
One website, the Democratic Voice of Burma, has collected some unconfirmed reports of more serious devastation by the tsunami:
An anonymous naval officer told them that a military installation on Coco Island in the Indian Ocean had been washed away. Magye Island in the Gulf of Bengalmay also had been swamped, other sources said. There were reports of the Maubin University building being torn apart, possibly by an earthquake which hit after the waves, of fishermen never returning from the sea and of villages losing dozens of inhabitants. One rumour doing the rounds says that 500 died in one district alone, and it sounds plausible.
Whatever the truth of these reports, it seems likely that Burma's biggest losses were of its refugees and workers in neighbouring Thailand.
THAILAND
Thailand became a central focus for much of the Western coverage of the tsunami, as it was here than many visitors from Europe died in their hundreds:
"Kids missing and sharks washed ashore and people worrying about their Christian Dior shirts and jewels while people were ebing thrown against rocks. It was just so random," said Vikram Chatwal, a tourist from Manahttan on holiday at the resort of Phuket.
It was in Thailand that the reality of the Third World brutally hit holiday makers from the rich countries. As the decaying bodies threatened to exacerbate an already serious public health crisis, the Thai authorities created large, makeshift, open-air morgues to deal with the thousands of corpses, in preparation to bury them in mass graves. Such an indiginity prompted families back in the West to demand the return of their loved ones for proper burial.
For the Burmese in Thailand, this was not an option. Esitmates of their losses range from 1,000 to 2,500 making them probably the largest single national group to die in Thailand. Numbers are hard to reach, not least because the number of Burmese in the country is unknown, many are there illegally, and many of the survivors are unwilling to ask for aid or help in the identification process for fear that the Thai authorities will return them to the abbattoir government in their own country (as it frequently does).
Burmese bodies remain in morgues unclaimed by their former Thai hotel employers who used the labour illegally: "These dead people are still in uniforms with hotel names and logos clearly on them. Some still with room keys tightly grasped in hands," said Thai forensic expert Porntip Rojanasunan.
Meanwhile many Burmese workers who had obtained permission to work in Thailand had their documentation washed away by the waves - and now face arrest every time they come into contact with the police. Consequently, many have declined to request the aid they need and are entitled to. Pranon Somwang, of a Thai NGO, has said:
"We shopuld not only care about Western tourists and our tourism industry but we should also remember the valuable role of Burmese labourers who built many of the hotels. The way we have treated them is a scandal."
A better story from the Thai tragedy was that of 10 year-old Tilly Smith from Surrey in England who was staying on Maikhao beach in northern Phuket. Tilly had done a project on tsunamis for a geography class, and when the ocean suddenly receded, she was the only one on the beach to recognise what was happening. While others stared in astonishment, she figured out what was happening and accurately predicted how long they had left. She warned her parents who told hotel staff who were able to organise a hasty evacuation of the beach.
Tilly's efforts ensured that no one on that beach was killed. Score one for the kids.
The Boxing Day Earthquake was a tragedy that brought out the best and the worst in people, and showed again who the best and the worst are.
___________________________________________________________________

800 Years of Crime

At the time of the hunger strikes of IRA prisoners in the notorious H-Block cells (otherwise known as The Maze) in 1980, one slogan captured the Republican refusal to accept any characterisation of their war effort as an expression of organised criminality - "I will not wear their uniform nor meekly serve my time, that Britain might brand Ireland's fight 800 years of crime."

However, the Provisional IRA's conduct often did not need England to brand it criminal. The reality of waging geurrilla warfare leads its practitioners into some dark places, including those that try hardest to keep their rhetoric consistent with their practice. With sparse resources and a powerful enemy, the guerrilla army is forced to make choices about where to get money, how to instill discipline in its own ranks, what constitutes a legitimate target, whether to respond to provocation in kind, what to do with enemy prisoners. Regardless of what the British government or Unionist parties had to say, the PIRA's tactics could be self-criminalising.

Sinn Fein's leader (and former Belfast IRA commander) Gerry Adams recognised this tension while desperately trying to patch up his party's image in Ireland and the US following the murder of Robert McCartney, when he told supporters in Washington DC: "We who would not allow the British government to criminalise us, we will also not allow any rogue elements on the fringes of Republicanism to criminalise our struggle." Adams has tried hard at least to make Sinn Fein's public position unequivocal, but this episode has reflected badly on Republicans and on the PIRA in particular.

Robert McCartney, aged 33, from the Short Strand in East Belfast, died in hospital on Monday January 31st of this year. He was found unconscious with stab wounds in Cromac Street, following a fight at about 11 o'clock the previous evening at a pub in May Street. The circumstances of the killing are described in this article from Salon.com:

'On Jan. 30, McCartney went to the gym to do some weightlifting and then for a drink with an old friend. They chose Magennis' bar, a new-wave Irish gastro-pub. There were IRA men drinking in the bar, some of whom had returned from the Bloody Sunday commemorations in Derry that day. According to the McCartney family, a republican accused their brother of making a rude gesture to a woman in their group. "Do you know who I am?" he asked. McCartney knew who he was but would not apologize, saying he had done nothing wrong. A row ensued. McCartney's friend Brendan Devine's throat was slit and the two friends stumbled outside. A knife was taken from the kitchen and, outside the bar, McCartney was stabbed and beaten so badly he lost an eye... Picked up by a police patrol, McCartney died in the hospital that night. His friend, whose throat was slit from ear to ear and stomach from navel to chest, survived.'




Robert McCartney was not murdered as a direct result of any PIRA command-level decision - from the beginning the PSNI (Police Service of Northern Ireland) have treated the episode as a pub fight that became a murder inquiry, what is in question is the PIRA's response. The McCartney family maintain that after leaving Robert for the police to discover without calling an ambulance, his attackers returned to the pub, cleaned it up, locked up and removed CCTV footage. As police began searches and probes in the Short Strand they encountered violent resistance, as young men attacked them with stones - though this might have been a spontaneous response to the arrival of the police in a Republican area. Belfast's mayor, Sinn Fein's Alex Maskey put the blame on the police for provocatively kicking down the doors of known IRA members - kicking in doors being an evocative image for many in the area recalling state repression over the decades.

It is Robert's family that have proven to be a greater force than his murderers might have imagined. McCartney left behind a girlfriend, children and six sisters, who have unexpectedly found themselves thrust into the centre of international politics. The McCartney family appealed for information after Robert's death, not wishing to choose a confrontation with the IRA. As it became clear, however, that neither the IRA nor Sinn Fein was taking any action to ensure that its members were held to account and indeed may have been doing the opposite, a lot of people in Short Strand began to express vocal disgust.

Short Strand is in large part the point of origin of the Provisional IRA. The Provisionals emerged in 1969 as a response to the brutal anti-Catholic pogroms led by loyalist paramilitaries - acting in conjunction with the police - that saw streets set alight and thousands of people in Catholic districts in Belfast made into refugees. It also represented a break with what the old IRA (later known as the Official IRA), whose Communist leadership had then rejected military means for continuing their efforts to shift Britain from its last territories in Ireland. Robert McCartney's funeral took place in St. Matthew's church - the site of the pitched battle between the Provisionals and loyalists that propelled them to the position of protectors of the Short Strand. So for Short Strand residents to take to writing graffitti messages such as "PIRA scum" and "Disband Now" represents a significant development. 700 people attended a vigil in the streets and a thousand came out to watch the funeral cortege pass.

Somewhat late, both the Sinn Fein and IRA leadership began to realise that the mood was turning against them. After attempting for years to defy the loyalist call of "Croppies lie down!", abject before the Orange state, the Croppies who have learnt a thing or two about defiance aren't lying down to the IRA either. Both Sinn Fein and the IRA now proclaimed themselves to be supporters of the McCartney's desire for justice. On February 14th, Gerry Adams called for witnesses to give information to the police - whose legitimacy Sinn Fein does not recognise in common with many Irish nationalists - "No one has any right, as has been claimed, to prevent anyone from helping the McCartney family." He urged those who were unwilling to contact the police to give what information they had to the McCartney family directly. The IRA issued a similar statement which was welcomed by the family - but McCartney family members still protested that the IRA was intimidating witnesses (over 70 people had been in the pub, including at least two Sinn Fein election candidates) and hindering the inquiry. Certainly many witnesses have exercised their right to silence and given minimal statements.

On the other hand, while the McCartney family had anticipated death threats and intimidation from the IRA and members of the community - so far this has been mercifully absent, and local support has been overwhelming.

But the IRA's efforts to take the political initiative failed disastrously. On February 26th, it announced that it had expelled three members, including two senior volunteers. Following Gerry Adams' own private talks with the McCartney family, the IRA leadership asked to meet them on March 5th, supplying them with two names - and offering to have Robert's murderers killed. The McCartney's rejected this offer with Robert Quinn, Robert's cousins stating: "I think the feeling is that to shoot and possibly kill these people is revenge and not justice. And revenge is not what the family is looking for."




The IRA's offer to sort out the mess by doing a quick hit-job may have made sense to those who thought it would be a good idea. But to say that it went down badly was an understatement. It merely served to bolster the organisation's reputation for brutality and criminality, at odds with the new situation in Northern Ireland since the 1997 ceasefire. The situation was further aggravated by Sinn Fein's Martin McGuinness' clumsy statement to the McCartney family that they should "be careful" about getting involved in party politics. McGuinness, a former Derry IRA commander, claimed afterwards that it was not intended as a veiled threat - probably correctly - but how did he think such language would be interpreted?

The episode has come hard upon the insistence (probably correct) by the Irish government and the International Monitoring Commission that the PIRA were also responsible for a record-breaking bank heist that saw bank employees forced to steal £26 million while their families were held at gunpoint.

The contradictions in the Republican movement have caught up with it in a dramatic way. It came to a head when Sinn Fein's position in the United States took a blow. As St. Patrick's Day came round, the White House, which under Clinton had been opened to Gerry Adams, was now closed to him and George Bush chose to invite the McCartney sisters instead. Perhaps a more significant blow, Massachusetts Senator Ted Kennedy - who has a long record of criticising the Unionists and the British government in Northern Ireland in Congress - also refused to meet Gerry Adams. Adams' visit to Washington was otherwise untroubled, but it is clear that many of Sinn Fein's more wealthy and powerful supporters in the US have run out of patience with the Provisional IRA, a constituency that Sinn Fein's leadership is unlikely to ignore.

For Republicans this episode raises the urgency of doing some house clearing. The murder of Robert McCartney - and I say this as an unapologetic defender of the desire of Northern Ireland's Catholics for justice against Unionism - has demonstrated once again that the armed struggle has been a historical mistake. After the British Army gunned down civil rights protestors in Derry in staggeringly cold-hearted fashion back in January 1972, the idea of social activism as a means to challenge the Unionist state and the British Army fell apart and the task of resistance fell to various paramilitaries pursuing a war that permanently alienated Northern Irish Protestant majority from the civil rights cause and degenerating into all manner of ugliness. Robert McCartney is hardly the only civilian in Catholic communities murdered by the Provos - often killing as an organisation and not merely as undisciplined individuals.

The Provisional IRA could make a reasonable case for itself back in the Autumn of 1969, but has long since been primarily a force for harm. It's primary current role is to provide "spectaculars" (as they used to refer to major military operations) which enable Unionist parties to slow down negotiations and perpetuate the lousy status quo. Can Republicans face up to the challenge of reconnecting with their grassroots, opening up skelton-filled closets (and we're talking actual skeletons here) and become a real force for social justice? The choice between their best and worst traditions lies ahead.

A few weeks ago, the Portadown News, a satirical Northern Irish paper, reminded Unionists that 'Quit Smirking Day' was upon us. Sinn Fein's disgrace has put a real bounce in the step of those who like to see the Croppies lying low. In a province where Reverend Ian Paisley has been elected First Minister, and the political process has been stalled once again, the resurgence of sectarian violence, especially around the Orange Order's marching season in the summer seems a very real possibility after years of relative calm.

There is something very ugly about the Unionist exploitation of Robert McCartney's death and the IRA response. Had Robert been murdered by loyalists the grieving period among Unionist politicians would have been brief and if he had been killed by the police, they would have informed us that he had it coming and was probably in the IRA anyway or close enough. Ditto the outrage at the IRA's offer to kill those who murdered Robert coming from those who have not the slightest objection to summary execution and violent law-breaking when their preferred killers are the ones doing the shooting.

The Irish Republican News (Ann Phoblacht) - essentially the IRA's paper - has published one story which if accurate, merits some wider attention:

'A 12 year old girl from North Belfast was the victim of a vicious sectarian attack on Sunday. At 5pm yesterday, as she and her mother were walking in the Whitewell Road area, a gang of teenagers jumped her and kicked Megan Brown in the face while shouting sectarian abuse.

'Megan said: "I was walking home from the Abbey Centre with my mummy, I was a little bit in front of her. There was a crowd of about five wee boys and three wee girls, I didn't pay any attention until one of the girls jumped on my back and pulled me down. When I was down the others all came round and they were kicking me in the face and stamping on my back, they were shouting at me 'don't you dare walk down this road, you Fenian B'[Bitch]. I was terrified because they would not stop. My whole face and back is very sore today and I do not want to have to leave the house."

'Megan, a pupil at the Little Flower School in Belfast, was taken to the Royal Victoria Hospital where she was treated for six hours for facial and back injuries including bruising and swelling.'

None of the major Unionist parties would be in a position to claim that they challenge the sectarianism that lies behind this and comparable episodes.

Meanwhile, the plot of another murder saga has been unravelling during this time somewhat more quietly, and by comparison to which, the conduct of the IRA over Robert McCartney doesn't come off so badly. The organisations containing the murderers do not issue public statements calling on their members to give information to investigators. Individuals responsible are not expelled, but promoted. Police investigators do not only face stonewalling - they had their offices burnt down. Witnesses are not just intimidated, they have been murdered outright.

The murder of Pat Finucane sixteen years ago has become well-known both in Ireland and in the United States, though in Britain much less so and not without reason.

When I was last in Belfast in January 2002, I photographed some graffitti in a loyalist area that caught my attention - it read: "KEN BARRETT - TOUT" (a tout is a police informer).


Pat Finucane

On February 12th 1989, the loyalist hit-man Ken Barrett, with an accomplice, smashed in the front door of the Finucane household with sledge-hammers as the family inside sat down to Sunday dinner. Pat Finucane went up to the door and Barrett shot him a total of 14 times with an automatic rifle and a 9mm Browning pistol. His wife, Geraldine, was hit in the foot by a fifteenth bullet while the children - then aged 9, 13 and 17 - watched their father die.

Pat Finucane was a Belfast solicitor who had taken up a number of cases, both human rights cases and those of IRA members, earning him the lethal hatred of the police (then the RUC - Royal Ulster Constabulary). Pat had two brothers who were active in the IRA and he has been accused, incorrectly, of being a member of the Provos himself, a claim denied not only by his family but by senior RUC members. Justice Peter Cory, invited by the British government to issue a report on the matter in 2001 also emphasised the words of Pat's Coroner at his inquest:

"The police refute the claim that Mr Finucane was a member of PIRA. He was just another law-abiding citizen going about his professional duties in a professional manner. He was well known both inside and outside the legal profession. He was regarded in police circles as very professional and he discharged his duties with vigour and professionalism."

Ken Barrett was secretly recorded confessing to killing Pat by BBC investigative journalist John Ware in a Panorama show in 2001, an interview which resulted in his belated prosecution. But
in his confession to John Ware
, he said, very plausibly, that the idea to kill Pat was not his - and that he thought killing a middle-class lawyer was an act of escalation and carried out the killing at the prompting of a Special Branch officer: "Finucane would have been alive today if the peelers (police) hadn't interfered." It was the RUC and British intelligence, not Barrett, that had wanted Pat dead - and who acted to bring about his killing and prevent subsequent investigations. It is this that has prompted the Finucane family and an international campaign to compel the British government to hold an independent inquiry into Pat's murder - and that of other victims of comparable killings.

The Finucane family had previously received death threats from the police - delivered as messages to his clients - which was something of a giveaway. More evidence came in 1990 with the arrest of Brian Nelson, a prominent member of the loyalist paramilitary Ulster Defence Association. A busy man, Brian Nelson was also an agent of British military intelligence, having been selected and recruited by Colonel John Kerr of the Force Research Unit (a secret army intelligence organisation whose existence was not then known to the public). Intelligence passed from Kerr through to Nelson, who then passed it on to the death squads of the UDA - "the FRU knew in advance on at least 92 occasions [probably at least twice as much as that] who the UDA was going to kill" writes Bill Rolston in 'Unfinished Busniess: State Killings and the Quest for Truth'. When Neslon was arrested in 1990 and put on trial for 35 separate offences including murder, Colonel Kerr (known to the court as Colonel J) and British Defense Minister Tom King, came to Nelson's defence. Kerr testified that Nelson's

"motivation was to make his community safer, to bring down the terrorist organisations"

(er... despite being a member of a prominent one). 15 charges against Nelson were dropped, he was jailed for ten years, then released in 1996. When interviewed by the BBC's excellent John Ware for a Panorama show in 1992, Nelson "Admitted on the programme that he had provided the information which led to the targeting of Pat Finucane and that his FRU handlers had been kept aware of the UDA plans to kill the solicitor."

Shortly before Nelson was arrested, allegations of Army and RUC co-operation with loyalist paramilataries came under investigation from the British police, led by then Chief Constable for Northumbria (and recently retired Chief Constable for London's Metropolitian Police), John Stevens. Stevens' files were destroyed following a fire in Carrickfergus RUC station, which Stevens himself has always maintained was an arson attack designed to derail the investigation.

Another UDA and RUC Special Branch agent William Stobie, is supposed to have supplied the weapons used to murder Pat Finucane. The RUC brought Stobie to trial in 1990, then deliberately fudged the case when Stobie threatened to say what he knew about the RUC's involvement in the murder, forcing the judge to call a mistrial by referring to Stobie's previous convictions in court. After the trial, the Department for Public Prosecution decided not to follow up the matter - until 2001 when Stobie was prosecuted a second time in connection with the killing. After
the trial collapsed again
(the DPP decided not to produce any evidence), Stobie - by now more vocal than ever on the topic -
was murdered outside his own home
, probably by his former paramilitary colleagues.


William Stobie
The Red Hand Commandos - a front organisation for the UDA - claimed responsibility. Stobie had asked for protection prior to his murder, and his concerns were taken up by lawyers and human rights groups, but were denied by the British government.



There have been a number of investigations into this particular cesspool - by Sir John Stevens on behalf of the police in England, by the Canadian judge Cory - but not yet an independent, public inquiry that the Finucane family have long been calling for, backed by Judge Cory, Amnesty International, the US Congress, the United Nations and human rights and legal groups across Britain, Ireland, the USA and much of the world.



That the constant delays, red herrings and refusals from the Northern Ireland Office should be carrying on year after year - in parallel with official condemnations of the IRA for its conduct over Robert McCartney is... just another day of the reflexive cruelty of much of British officialdom.


UPDATE - Since putting this together at my snail's pace, events have moved on.

Sinn Fein was not hit by the IRA's criminality during the May 2005 British general election, and consolidated its position as the leading nationalist party in Northern Irleand.

The PSNI warned the McCartney family of threats made against them - after a long period with no threats - if they continued their campaign. Martin McGuinness denied any Republican threats made against the family, though it would not be without precedent (indeed it is the lack of threats up till now that has been surprising.

The PSNI made some arrests in connection with Mcartney case. Two men have been charged, one with the Robert's murder, the other with the attempt on the life of Brendan Devine. The McCarntey family, after a period of remarkable tolerance relatively speaking, have received anonymous threats. Sinn Fein, however, has reinstated five of its members connected to the case. The McCartney family are requesting a meeting, demanding to know why.




Amnesty International has called for a boycott of the British governmnet's proposed inquiry into the murder of Pat Finucance, using strong language ("sham"). The British government's new inquiry legislation of January 2005 is yet another attempt to curtail accountability and conceal the unpleasant truth.




See also British Collusion in Ireland
_____________________________________________________________________________________


White Lines and White Lies
Shortly after news of his death got out, the Internet speculation began - had Gary Webb, the investigative reporter who did so much to expose CIA skull-duggery in Central America, been murdered by a government seeking to silence him?

The answer is no, but the truth is hardly much better. Gary had attempted to uncover the facts of a truly awful episode in recent US history and had his career effectively destroyed as a reward. Attacked by the bulwarks of America's not-so-liberal-after-all press, betrayed by his own paper, he sank into depression, his life finally ending in suicide. By the time he had got to the stage of firing shots into his head, Gary's days as a journalist were over and the US government had no need to kill him even if anyone in it had wanted to.


The late Gary Webb - deserved better


"The whole thing is too sleazy for words. It's not a happy chapter in US history," said the US State Department official Frank McNeil to the Washington Post in 1994, commenting on CIA connections to narcotics smugglers whose efforts raised money for the Contras - the Moral Equivalents of the Founding Fathers, as the late Ronald Reagan reminded us - who waged war on their fellow Nicaraguans throughout the 1980s. In case the larger tragedy risks being ignored, the Contras were an outift of mercenary fascists created by the CIA and its regional allies from the collapsed forces of the Somoza dictatorship which was overthrown in the popular revolution of 1979. The Contras attacked Nicaragua from bases in Costa Rica and the Honduras, and in particular targeted its civilian population. Their hallmark was slitting the throats of their victims - from agricultural co-operatives to primary schools. The Reagan administration made several efforts to induce Congress to provide the Contras with the funding they needed to trash their own country and for much of the time, a bipartisan consensus duly obliged - but faced with some Congressional opposition, the administration's specially created parallel, secretive and unelected outfit searched around for other sources of money from Iranian mullahs to narcotics-smugglers.



Bill Sanders responds to the Reagan administration Nicaragua policy

World Court Judgement condemning the US war against Nicargua and ordering reparations

In the summer of 1995, Gary Webb got a call from the girlfriend of a drug dealer. Testifying against her boyfriend on behalf of the government was Danilo Blandon, a Nicaraguan convicted of running a cocaine ring in California, In his testimony, Blandon said that he had become involved in selling cocaine in the USA in order to help fund the Contras back home. Gary decided to try and find out more, as he explained in one account he gave of his career:

"So when I happened across information implicating an arm of the Central Intelligence Agency in the cocaine trade, I had no qualms about jumping onto it with both feet. What did I have to worry about? I was a newspaperman for a big city, take-no-prisoners newspaper. I had the First Amendment, a law firm, and a multi-million dollar corporation watching my back. Besides, this story was a fucking outrage."

When he was 15 years old, Gary caused his first controversy. He wrote editorials for his high school paper in Indianapolis. Despite being born into a military family himself in Corona, California, he criticised the way that a drill team for girls was used to instil militarism and support for the Vietnam War.

He went on to start a course in journalism at Northern Kentucky University but dropped out. He then found work with the Kentucky Post and later for the Cleveland Plain Dealer. At these papers he started work on the kinds of stories that he developed a passionate interest in: corruption - in the machinery of government and in the private sector.

It was always a potentially hazardous route for a journalist, but Gary received numerous decorations for his efforts - the Investigative Reporters and Editors Award in 1980 (for co-authoring a story on organised crime in the coal industry), the Pulitzer Prize in 1990 (for reports on the aftermath of the San Francisco earthquake of 1989) and the H. L. Mencken Award from The Free Press Association in 1994 for a report on abuses in California's drug asset forfeiture programme.

So far, so good and Webb even came to feel that the US media really did have a place for the investigative journalist that was prepared to poke around where those with power would rather he didn't, as he would later recall with bitterness:

"If we had met five years ago, you wouldn't have found a more staunch defender of the newspaper industry than me ... I was winning awards, getting raises, lecturing college classes, appearing on TV shows, and judging journalism contests. So how could I possibly agree with people like Noam Chomsky and Ben Bagdikian, who were claiming the system didn't work, that it was steered by powerful special interests and corporations, and existed to protect the power elite? And then I wrote some stories that made me realize how sadly misplaced my bliss had been. The reason I'd enjoyed such smooth sailing for so long hadn't been, as I'd assumed, because I was careful and diligent and good at my job ... The truth was that, in all those years, I hadn't written anything important enough to suppress."

Oscar Danilo Blandon was in charge of argicultual imports in Somoza's Nicargua. When the dictator was overthrown in 1979, he fled. Norwin Meneses Cantarero, whose position in Nicaraguan society was that of narcotics salesman, similarly ran in the face of democracy and looked for ways of helping out those seeking to restore the old order. Blandon and Meneses became partners, selling guns and cocaine to a certain Ricky Ross, who sold it on to the Crips, one of Los Angeles' most notorious gangster rackets. An unknown amount of the proceeds was passed on to the Contras.

The 1980s saw many communities in the United States devastated by crack cocaine - a new, cheaper form of the drug that you could inhale in the form of a $4 cigarette. Crack cocaine is much more addictive than the powder form that tends to find its way up the noses of the better-off. The spread of the new drug through poverty-stricken neighbourhoods like Compton and South-Central in LA was a whole new kind of misery for Black America, leaving in its wake wrecked lives and families, bloody turf warfare amongst its salespeople and a new generation of prison sentences. What if the CIA had chosen to accept this as further collateral damage in its search for people who would assist in the torment of Central America?

Gary Webb had been working for the San Jose Mercury News since 1988 when the paper published his series of articles on this theme in August 1996. The article begins:

America's Crack Plague Has Roots in Nicaragua War

For the better part of a decade, a San Francisco Bay Area drug ring sold tons of cocaine to the Crips and Bloods street gangs of Los Angeles and funneled millions in drug profits to an arm of the contra guerrillas of Nicaragua run by the Central Intelligence Agency, the San Jose Mercury News has found.
This drug network opened the first pipeline between Colombia's cocaine cartels and the black neighborhoods of Los Angeles, a city now known as the "crack" capital of the world. The cocaine that flooded in helped spark a crack explosion in urban America - and provided the cash and connections needed for L.A.'s gangs to buy weapons.
It is one of the most bizarre alliances in modern history: the union of a U.S.-backed army attempting to overthrow a revolutionary socialist government and the "gangstas" of Compton and South-Central Los Angeles.
The army's financiers - who met with CIA agents before and during the time they were selling the drugs in L.A. - delivered cut-rate cocaine to the gangs through a young South-Central crack dealer named Ricky Donnell Ross.
Unaware of his suppliers' military and political connections, "Freeway Rick" turned the cocaine powder into crack and wholesaled it to gangs across the country.

A lot of things changed with the publication of this series over the next few days in a relatively small California paper. For one, the Dark Alliance series reached a large audience across the USA via the Internet - one of the first pieces to gain nationwide circulation through the new technology then becoming more widely available. In time, the series would lead to numerous investigations of CIA conduct and ultimately official confirmation of some of Webb's allegations. In the mean time it prompted outrage - from many African-Americans, among others, against the CIA and the government, and also from the mainstream press (but against Gary Webb).

The Los Angeles Times in particular began its own investigation - aimed at pulling down Gary rather than exposing official corruption, as journalist Marc Cooper describes:

"A cold panic set in at the L.A. Times when Webb's so-called Dark Alliance story first appeared. Just two years before, the Times had published a long takeout on local crack dealer Rickey Ross and no mention was made of his possible link to and financing by CIA-backed Contras. Now the Times feared it was being scooped in its own backyard by a second-tier Bay Area paper.

'The Times mustered an army of 25 reporters, led by Doyle McManus, to take down Webb's reporting. It was, apparently, more important to the Times to defend its own inadequate reporting on the CIA-drug connection than it was to advance Webb's important work (a charge consistently denied by the Times)."

The legacy of the anger towards the CIA from African-Americans as a result of Gary's series continues to the present - CIA recruitment among Blacks is still affected. The anger at the time forced the Clinton administration to launch investigations into the Reagan administration's misconduct, while then CIA director John Deutch even attended a public town meeting at Watts to deny the charges. Meanwhile, the media focus began to shift from the CIA to Gary. Robert Parry writes about the Washington Post's strike:

On Oct. 4, 1996, the Washington Post published a front-page article knocking down Webb's story. The Post's approach was twofold: first, it presented the contra-cocaine allegations as old news – "even CIA personnel testified to Congress they knew that those covert operations involved drug traffickers," the Post reported – and second, the Post minimized the importance of the one contra smuggling channel that Webb had highlighted – that it had not "played a major role in the emergence of crack." A Post side-bar story dismissed African-Americans as prone to "conspiracy fears."

Alexander Cockburn and Jeffrey St. Clair correctly agrue that the constant innuendo concerning the paranoia of blacks that appeared in the mainstream press, apart from reflecting more than a hint of prejudice, failed to take into account the fact that the historical record of the US government in conductiong social experiments on blacks might serve as a perfectly reasonable basis for suspicion. But as Marc Cooper argues, some of Gary's supporters added conspiracy speculation that had no basis in the articles themselves, but which provided his detractors the chance to refute claims he didn't actually make. The 'Dark Alliance' series did not argue that the CIA had deliberately tried to get blacks hooked on crack as a means of social control - the issue was, as Parry writes, the CIA's "protection of drug smuggling into the United States as part of a covert war". Gary himself told the Post: "this (series) doesn't prove the CIA targeted black communities. It doesn't say this was ordered by the CIA... Essentially our trail stopped at the door of the CIA."

The San Jose Mercury News pieces and the subsequent book, Dark Alliance, had significant limitations, as a more sympathetic critic, David Corn at The Nation, pointed out:

"Webb had a helluva story. But he botched parts of it. He produced little evidence that the Blandon-Meneses ring raised "millions" for the contras or that Blandon was linked to Langley... Webb has trouble chasing the money and fails to thoroughly document how much dirty cash Blandon and Meneses steered to the contras. Was it as little as $80,000 or so, as CIA investigators claim Blandon told them? Or was it millions that were instrumental to the survival of the contras, as Webb implies but does not prove? Was Blandon's drug business originally set up as a cash-for-contras enterprise, as Webb depicts it? That's what Blandon has asserted. But there is evidence, as Webb notes, that Blandon may have been a drug entrepreneur years before he hooked up with Meneses. If so, that would cast doubt on his I-did-it-for-the-contras tale and make that claim sound more like an after-the-fact justification."

But taking the weaker points of the articles and follow-up book into consideration, Corn nonetheless also concluded: "Webb deserves credit for pursuing an important piece of recent history and forcing the CIA and the Justice Department to investigate the contra-drug connection... he succeeded in pushing a sleazy piece of the CIA's past into public light. The gang at Langley is still resisting coming clean, and these unholy alliances remain in the dark."

The CIA investigated itself in 1987 and 1988 when allegations of association with Central American narcotics smugglers first arose and the investigators found themselves to be not guilty of anything very much, no doubt to their great relief. The 'Dark Alliance' series, however, brought on some more probing from itself and from the Justice Department.

As the former CIA officer Ralph McGehee said:

"In an Agency that employs pressure and national security to hide violations of law, incompetence, politically unacceptable facts, and an assortment of malfeasance, you need the highest degree of accountability. What you have is the oppositie - a system that defends itself at all costs - no matter what the transgression."
(cited, along with much of the following information, from Alexander Cockburn and Jeffrey St. Clair's, 'Whiteout - Drugs, the CIA and the Press', p392)

Efforts to pronounce the CIA not so much as innocent as at least innocent enough to proclaim them basically exonerated and Gary as the villain of the piece don't account for too many of the facts. One somewhat confused angst-ridden memo of 1984, from Lee S. Strickland, assistant general counsel of the CIA states:

"I believe the station must be aware of the potential for disaster. While the allegations [earlier allegations, not made by Webb] might be entirely false, there are sufficent factual details which would cause certain damage to our image and program in Central America."

Yes indeed. Inspector General Frederick Hitz may have concluded his investigation in 1996 into the CIA with Lord Hutton-style flourishes of exoneration (Hitz used Meneses' testimony that he had never been involved in selling cocaine - a claim that is merely darkly hilarious - as evidence of an absence of a CIA-Contra-cocaine link), some of its contents are actually quite damning (and the version available to the public was heavily censored). And Hitz would add in testimony before a Congressional committee:

"Let me be frank. There are instances where the CIA did not in an expeditious or consistent fashion cut off relationships with individuals supporting the Contra program who were alleged to have engaged in drug trafficking activity or take action to resolve the allegations." (p391)

Not quite the same as his earlier "no direct or indirect links" claim, is it? Hitz also revealed that Reagan's Attorney General, William French Smith, had signed a memo with the CIA agreeing that they were not required to report on the narcotic-related activities of those who were paid by the CIA but not actual employees - that is many members of the Contras and those who involved in supplying them. This agreeemnt between the CIA and the Justice Department ended in 1986 when full Congressional of the Contras was restored. Quick, starter for ten - why would the CIA make a request like that?

In 1981, Susan Smith of the Drug Enforcement Agency had begun an investigation into Norwin Meneses suspecting him of selling cocaine in the USA while sending moeny and weapond back to Central America. She found that both the DEA and the FBI already had a lot of information on him - including court testimony namiing him as the source of one of the FBI's largest seziures of cocaine in the history of California, in San Francisco in 1983. But Susan's investigation was terminated by her superiors, who chose not to have Meneses arrested at that time. She resigned from the DEA in 1984. Meneses was not indicted until 1989, and not arrested until 1990
(by Nicaraguan authorities). Nicaraguan police, as they looked into the case, complained that US agencies had not intervened despite knowing of Meneses' activities.

In the 1983 cocaine seizure in San Francisco from the Colombian vessel, the Cuidad de Cuta, the FBI arrested a certain Julio Zavala and took $36,800 in cash from him. Zavala claimed that this money was supposed to go to the Contras to buy weapons. He was backed up on this by leaders of the Contras and the CIA who intervened in the court case to have the money returned to Zavala. This incident came to the attention of the Jack Blum in 1987, who was working for Senator John Kerry (then investigating the Iran-Contra mess), and who contacted US District Attorney Joseph P. Russoniello (the judge presiding over the Zavala case):

"[Russoniello]... shouted at us. He shouted at Senator John Kerry, who chaired the committee. He accused us of being subvsersives for wanting to get into it."

Kerry later heard in testimony before his committee that Meneses had escaped arrest in 1983 after being tipped off "by his sources in US law enforcement".

The CIA's pressure on Russoniello to return Zavala's money is also noted in the Hitz report.

In another telling epsiode, Oliver North's aide Robert Owen began to suspect that certain Contra leaders were using drug money to enrich themselves rather than fund the dismemeberment of Nicaragua, writing a memo to North complaining that "the CIA is being had".

One of the easiest ways to dismiss damaging allegations is to say that there is no evidence for it - it works even when it is blatantly untrue and the evidence is very substantial. Just say it and repeat in a forum where no one answers back. We have barely even begun to look at all the evidence that Gary and others unearthed, nor has the whole truth been uncovered. We are not talking about secret alien autopsies or fantasy versions of the murder of JFK - Gary uncovered a real story, based on serious journalistic inquiry, supported with evidence. He responded angrily to the charge of a lack of evidence to support his articles:

"We've got declassified FBI reports; we've got DEA reports. The thing to bear in mind is that there are no facts in dispute. Danilo Blandon admits selling cocaine for the Contras. Freeway Rick Ross admits buying it and turning it into crack and selling it to the gangs. We have pictures of Meneses meeting with Adolfo Calero. And we have testomony that they met with Enrique Bermudez, who are the top CIA officials running the Contras. So to claim that there's no documentation is idiotic."

Faced with sustained criticism from much of the national press, Gary then suffered the humiliation of his own paper betraying him and retracting his story. Wikipedia writes:

"However, as Richard Thieme observed, the major news outlets focused primarily on attacking him or criticizing irrelevant parts of the story itself, leaving Webb's thesis virtually intact. Because of these attacks, Webb created a web site that contained primary documents, transcripts, and audio interviews so that people could examine the evidence for themselves."

Feeling the pressure, San Jose Mercury Chronicle editor Jerry Ceppose published a retraction on May 11th 1997 and reassigned Gary to a new post 150 miles from his home. Gary resigned in December, his career as a journalist and his marriage over.

He later got work in the California Assembly Speaker's Office of Member Services and investigated state governor Gray Davis for the Joint Legislative Audit Committee but was laid off with other staff in 2003, as a new Speaker came in. He was hired by another paper, the Sacramento News and Review, shortly before his depression got the better of him.
After Gary was found dead, it turned out that there were two bullets in his head. This aroused further suspicion among those inclined to believe that his enemies of state had done the deed themselves, since how could anyone shoot themselves twice in the head? Surely after the first bullet, you would be in no position to fire a second? But people should be careful about insisting that some things just cannot happen. It's rare, but it is possible to fire two bullets with a single squeeze of the trigger, as Gary did, in a final macabre twist to his tragic life story.

Don't you forget about him.
_____________________________________________________________________________________

Thanks for reading, best wishes,

Alex Higgins (respond_alexblog@yahoo.co.uk)
Tottenham, London, England